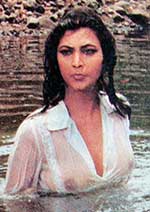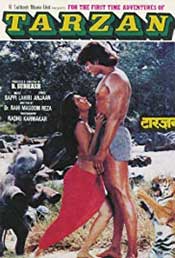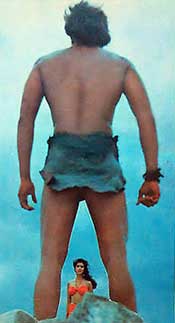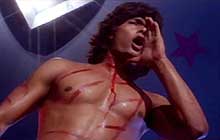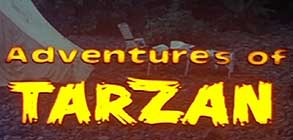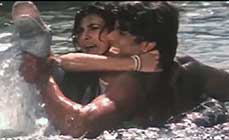 also known as TARZAN and TARZAN, MY TARZAN
director: Babbar Subhash
starring: Hemant Birje · Kimi Katkar · Dalip Tahil · Om Shivpuri · Narendra Nath · Raja Duggal,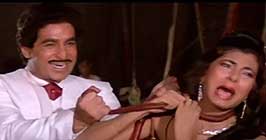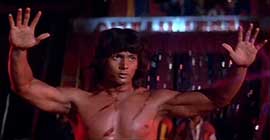 The plot? Oh yeah. But it is not important. Merely icing on a delicious cake. Perhaps the greatest psychotronic genre film of all time. This is IT. An unauthorized Hindi version of Tarzan that plays like everyone involved is on acid.
Ruby is a sheltered young woman, living the wealthy goodlife with her widowed dad. He enjoys venturing into the deep jungles of India in search of the fabled Shakaboomi tribe. For this safari, Ruby decides to join him. At the camp, Ruby is introduced to DK, a businessman representing the Apollo Circus. He is on a mission of finding and capturing an apeman named Tarzan. Dad thinks DK would be a perfect husband for his daughter and pushes them into a relationship. But before long, Ruby is lost in the forests and becomes the victim of numerous misadventures (from animal/giant snake attacks to getting kidnapped by a lustful chief and his tribe). She is constantly rescued by Tarzan. At first she belittles him, but soon grows to admire his sensitivity and bravery. Of course, they fall in love. But then, Tarzan is captured by DK and taken chain-bounded to the circus where he's expected to perform various life-threatening, S&M oriented acts while Ruby sings and the audience claps. However, the jungle animals are pissed off and they [elephants, lions and tigers] invade the city in an attempt to rescue Tarzan.
Director Babbar Subhash had major success with two gangster films, Aandhi-Toofan (Raging Storm, 1985) and Kasam Paida Karne Wale Ki (Swearing a Curse, 1984), when asked about his next movie. He replied: "Tarzan." The interviewer admonished Mr Subhash, asking why he'd chosen such a "C-Grade subject after two big hits." Babbar Subhash guaranteed that he would turn this "C-Grade subject" into an "A-Class film." Whether or not he managed to do that is up for debate. However, this movie became a huge surprise hit, the top grossing Indian film of 1985. And it was responsible for the top Pop Song of the Year, Tarzan My Tarzan.
Both lead performers were newcomers. Before becoming Tarzan, Hemant Birje was discovered at a wrestling gym in Pune India. Kimi Katkar was a 20 year old model who enjoyed instant success from this film; however, upon its release, her mother bashed director Subhash in the Media claiming her daughter "was bullied into wearing those skimpy outfits." She also noted that Kimi had a wardrobe malfunction (a nip slip) in a scene and wanted it edited from the film (see pic below L). Her request was refused. The director said: "Both Kimi and her mother knew about the revealing outfits from the beginning. I'm not going to spend loads of money on a newcomer without getting the most from her."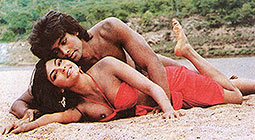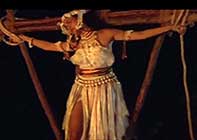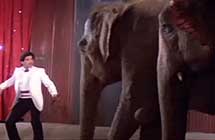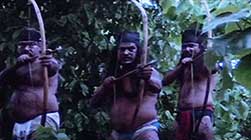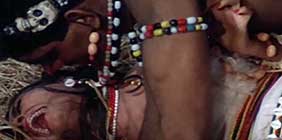 An Indian film in [mostly] Hindi language,with optional ON/OFF English subtitles;
fullscreen uncut (135 min.). NTSC DVD format, encoded for ALL REGION,
playable on any American DVD machine.
Extras include Tarzan My Tarzan music video.

SemiNudity/Violence/Sexual Brutality
Recommended for Mature Audiences