Contains Disturbing Scenes of Sex and Violence
The film, including images and description on this page...
for ADULTS ONLY
EXTREMELY RARE, NOTORIOUS JAPANESE PINK ROUGHIE
BEAUTIFUL PRINT, UNFOGGED AND UNCENSORED, WITH OPTIONAL ENGLISH SUBTITLES!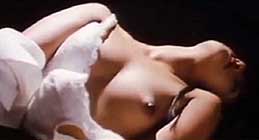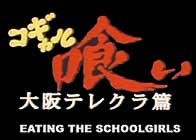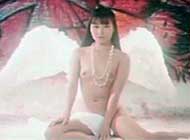 also known as EAT THE SCHOOLGIRLS: OSAKA TELEPHONE SEX RING
director's preferred title: TENSHI NO GENSO [An Angel's Illusion]
director: Naoyuki Tomomatsu
starring: Michiru Kato · Kozue Aoki · Yuki Fujita · Siro Misawa · Dan Takehashi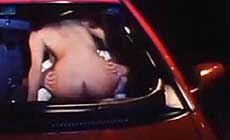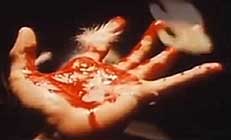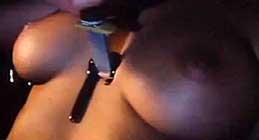 Two young street hustlers are employed for low-level tasks by an Osaka Yakuza gang. As the boys sink deeper into the world of sex and depravity, they lose touch with reality. Instead, the punks find themselves in a hostile environment of sexual brutality and murder. One of the boys, Siro, is still functioning somewhat on a normal level although his attempts at intimacy are exclusively with telephone sex. One evening, a phone whore complains that her boyfriend had been unfaithful and she wished he were dead. Siro immediately is obsessed with the assassin concept and decides to kill the man. Dressed as a schoolgirl, armed with a box cutter, he chooses an anonymous victim and slices away. Siro - uncontrolled by the excitement of the kill - ejaculates on the victim's open wounds. He has now found a direction for his life - warped by the dark memory of his father killing his mom - and begins to accept more 'contracts.' Into Siro's fantasy world comes an angel named Maki who attempts to soothe the boy but succeeds only in frustrating him further. Meanwhile, his metal-head friend is having a difficult time accepting sexual rejection even from prostitutes. He tells Siro that he wishes the insulting whore were dead. Siro takes that as a contract and kills the woman in a particularly vicious segment, ejaculating afterwards (see pic below, center).
Lots more happens including an excruciatingly graphic rape by the Yakuza that climaxes in an enema explosion. But ultimately - if the viewer can withstand the excessive nastiness - there is a remarkably good film here. It's well photographed, smartly written, and surprisingly poignant. This is a major early project from director Tomomatsu who was 29 years old when he made it. He found International success a few years later with STACY: ATTACK OF THE SCHOOLGIRL ZOMBIES in 2001. Since his early guerilla filmmaking mania in the streets of Osaka, he has helmed 45+ movies including RAPE ZOMBIES, VAMPIRE GIRL VS FRANKENSTEIN GIRL. EROTIBOT and the sexual version of Red Riding Hood called RED SWORD with Asami.

Final thoughts. Although no schoolgirls actually get eaten, this film is packed full with many extreme scenes that are truly intended for acquired tastes only. Thus it's quite deserving of its eccentric reputation. But here is also a perfect example of why people [Internet bloggers are especially guilty] - with no understanding of the language - should NEVER review a film. Frankly, there's not an accurate review to be found. A quick look at the atrocity called a summary on the Internet Movie Data Base proves the point.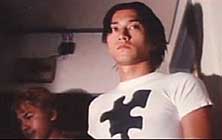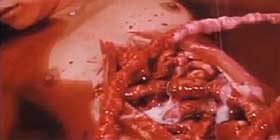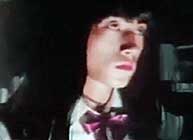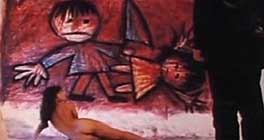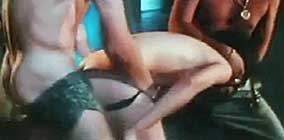 A Japanese film with optional ON/OFF English subtitles;
widescreen uncut (60 min.). NTSC DVD format, encoded for ALL REGION,
playable on any American DVD machine.
Extras include original theatrical trailer.

Nudity/Graphic Violence/Rape/Gore/Drugs/Sexual Brutality
Recommended for Adult Audiences Only 18+