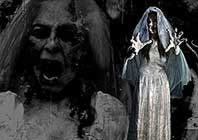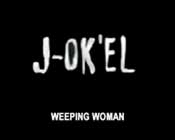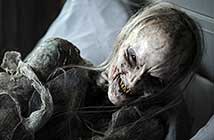 original Mexican title: J-OK'EL LA LLORONA [Weeping (or Crying) J-ok'el]
director: Roberto Carlos Morales Vergara (as Benjamin Williams)
starring: Tom Parker · Ana Patricia Rojo · Anguelique Boyer · Pablo Bracho · Dee Wallace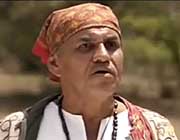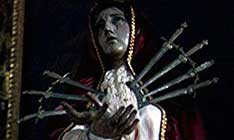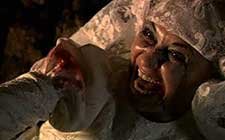 Mexico's legend of the Weeping Woman has been the subject for numerous motion pictures, including the original LA MALDICION DE LA LLORONA [Curse of the Crying Woman] by legendary Rafael Baledon. Wrestling icon Santo also did a version in 1974, SANTO IN THE VENGEANCE OF THE CRYING WOMAN. Hollywood released its own interpretation, Curse of La Llorona, as part of the Conjuring Franchise in early 2019. A decade before, Mexican filmmaker Roberto Vergara made this oddly 'Americanized' version - set and shot in Mexico, featuring a mostly Spanish cast - but with central character George Christianson (Tom Parker) speaking only English.
The story deals with a naive American who travels to a small village in Chiapas, Mexico, when his sister disappears during an epidemic of kidnappings attributed to the legendary ghost, J-ok'el, the weeping woman. He meets Carmen Romero (Ana Patricia Rojo) who helps him navigate through the cultural and superstitious roadblocks.
This is the only feature film for Roberto Carlos Morales Vergara, but it stars two show biz veterans. Dee Wallace - probably best remembered for being Elliot's mom in ET The Extra Terrestrial, but still adored by genre fans for The Howling and the original THE HILLS HAVE EYES - appears in a small but important roles as George Christianson's mom. The other notable star is Mexican actress Ana Patricia Roja, known today mostly for her television work, originally won awards as a child for her remarkable performance in Carlos Enrique Taboada's POISON FOR FAIRIES in the role of Veronica.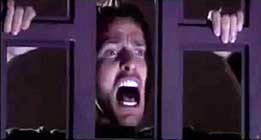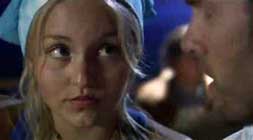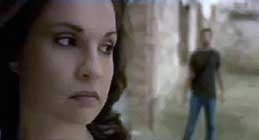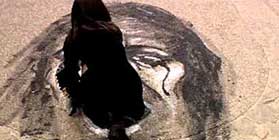 A Mexican film in [mostly] English language; widescreen uncut (89 min.)
NTSC DVD format, encoded for ALL REGION,
playable on any American DVD machine. Extras include original trailer.