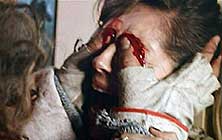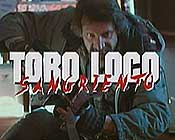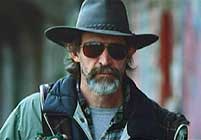 original Chilean title TORO LOCO: SANGRIENTO [Toro Loco: Bloodthirsty]
also known as TORO LOCO 3: APOCALYPSE

director: Patricio Valladares
starring: Francisco Melo · Constanza Piccoli · Simon Pesutic · Cuentrejo · Mauricio Pesutic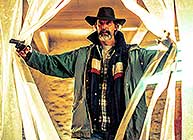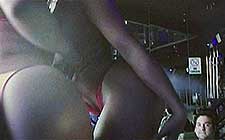 The Toro Loco character was originally created by Patricio Valladares - together with Italian Andrea Cavaletto (of Dylan Dog fame) - as a nihilistic hitman working for the Mafia against independent porn filmmakers in the remarkably offensive DIRTY LOVE. The unconventional assassin, Toro Loco, then headlined his own feature film, the 2011 sequel. Four years later came this third entry in the franchise.
Here, Toro Loco is solitary and vindictive gunslinger who - in the aftermath of the previous bloodbath - has resorted to directionless wandering, getting involved in moments of flash violence should the opportunity arise. Such an opportunity manifests when a scrimmage interrupts his quiet breakfast at a small diner. Apparently, the family who owns the restaurant is challenging the drug-peddling gang who have taken control of the turf. Toro Loco defuses the situation with brisk violence. During the scrimmage, he notices that the drug-dealers are affiliated with the same gangsters responsible for the attack that cost him so much damage from before [see the previous film]. Toro Loco immediately sets his sites on bloody revenge.
Director Patricio Valladares helmed 2012's relentless shocker HIDDEN IN THE WOODS as well as the two previous Toro Loco films, the xtreme TORO LOCO: DIRTY LOVE and TORO LOCO. With success [and his keen eye for graphic violence], Mr Valladares has begun shooting English language films in Hollywood.
A Chilean film with English subtitles; widescreen (16:9), uncut (95 minutes) in DVD encoded for REGION ONE NTSC, playable on any American DVD machine;
Extras include theatrical trailer.

   

Graphic Violence/Nudity/Rape/Drugs/Gore:
Recommended for Mature Audiences.