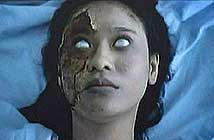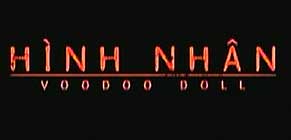 original Vietnamese title HINH NHAN [Voodoo Doll]
also known as THU BUP BE [Black Black Doll]

director: Vo Ngoc
starring: Truong Quynh Anh · Dustin Nguyen · Kim Tuyen · Mac Van Khoalpsum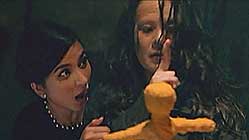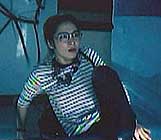 A new substitute teacher named Professor Hung arrives at the Conservatory. He soon becomes attracted to Thu, a student that reminds him of former lover who passed away 10 years prior. As a result, his wife is jealous of Thu and trouble erupts at home. Meanwhile, Thu and her friends discover a mysterious voodoo doll hidden behind a crack in the wall of their classroom. Unexplained and frightening events begin happening to them, seemingly caused by magic from Professor Hung's wife.
Actor Dustin Nguyen made this Vietnamese film as a favor to his friend, first-time female director Vo Ngoc. Initially, he was to have only a small part (as Professor Hung) but, as the chemistry connected, his scenes were expanded into - eventually - a starring role, greatly benefiting the movie. Mr Nguyen is a filmmaker who initially left Viet Nam in 1975 to follow his dream in Hollywood. He became one of the premiere Asian-American actors, best known for his television work, particularly a starring role in 21 Jump Street and The VIPs. He returned to Viet Nam in 2005 and re-established himself there as both an actor and director. In 2012, Dustin Nguyen scripted, directed and starred in the International hit ONCE UPON A TIME IN VIET NAM.
A Vietnamese film with English subtitles; widescreen (16:9), uncut (88 minutes) in DVD encoded for REGION ONE NTSC, playable on any American DVD machine;
Extras include original theatrical trailer.

Violence/Sexual Brutality
Recommended for Mature Audiences