JOE D'AMATO'S FINAL FILM!
TWO DIFFERENT EDITS OF THE SAME MOVIE
ITALIAN WITH ENGLISH SUBTITLES PLUS ENGLISH LANGUAGE VERSION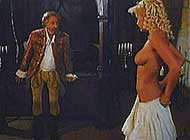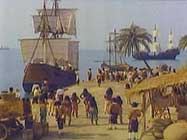 original Italian title I PREDATORI DELLE ANTILLE [Predators of the Antilles]
also known as SEXY PIRATES and TORTUGA (German Title)

director: Joe D'Amato (as David Hills)
starring: Anita Rinaldi (as Anita Skulteti) ˇ Venere Torti ˇ Carlo De Palma
Menyhért René Balog-Dutombé (as Menyhert Dutombe) ˇ Laszlo Madarasz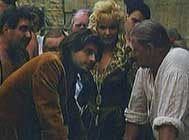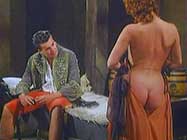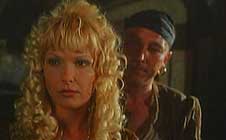 After almost a decade of directing nothing but hardcore sex films (over 100, including MESSALINA VIRGIN EMPRESS), Joe D'Amato proved he could still make a decent movie, on par with his earlier story-driven erotic actioners. It would, sadly, be his final motion picture as he died from a heart attack after completing the project in January 1999. For this film, he would return to an old pseudonym, David Hills, not used since his FRANKENSTEIN 2000 [which incidentally was his last horror film].
Sir Francis Hamilton, ambassador to King Charles II, sails from England to Jamaica where he will be signing a peace treaty with France. On the way to the Caribbean, his ship is attacked by the notorious Captain George Rachman and his pirates. When the nefarious Captain discovers Hamilton's true identity, the pirates demand a huge ransom from his wife. Complications keep the British from paying the demand, so Lady Elena takes matters into her own hands, using her stamina and sexual prowess to organize a band of her own pirates to stage a rescue.
With this film, Joe D'Amato (born Aristide Massaccesi in 1936) completed his 200th project. Despite the rather nondescript porn during his last period, Joe was the undisputed genre king throughout the '70 and '80s, delivering such legendary motion pictures as THE ALCOVE, IMAGES IN THE CONVENT, BLUE OMEGA, ANTHROPOPHAGUS, TOP MODEL, PRONO HOLOCAUST as well as the numerous films in the BLACK EMANUELLE franchise.
An Italian film: Two different edits, Italian Language with English subtitles (91 minutes)
plus the English Language version (84 minutes); fullscreen, in DVD encoded for
REGION ONE NTSC, playable on any American DVD machine.

     

Nudity/Violence/Sexual Brutality/Rape
Recommended for Mature Audiences