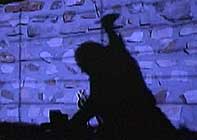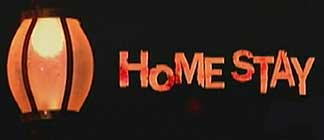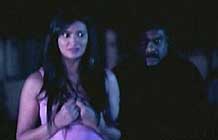 Original Hindi (India) Title: DHIGIL HOME STAY
director: Santhosh Kodenkeri
starring: Sayali Bhagat · Ashmit Patel · Shruthi Ravikale · Savithesh Khurana · Jayashri Raj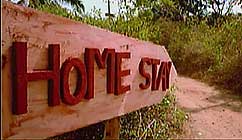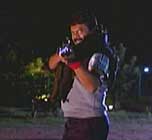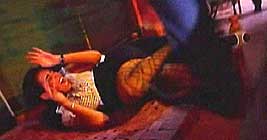 The term 'Home Stay' is unfamiliar to most Westerns. In Asia - especially India - a Home Stay is similar to a hostel (or bed-n-breakfast) where the guest stays for a week or longer. In the beginning of this film, a news announcer is reporting on the brutal knife-slaying death of a female home stay victim. The reporter then tells of some partying teen home-stayers who are beaten and raped by a local gang. Oddly, the message of this television report is BLAME, as if the home stay guests deserve the abusive treatment because they are 'invalid citizens,' taking advantage of community without being part of it.
After this very strange TV report - undoubtedly not endorsed by the tourist board - the real story begins. A young woman named Akshara manages to extend time-off from her job to two weeks. So she immediately plans a surprise visit to her fiancee in the town of Coorg. After driving all day, she arrives at a remote home-stay [seemingly, the same one where the (previously mentioned) female was killed]. But Akshara enjoys a quiet evening in the quaint surroundings. Then, suddenly, the owner must go away after getting an emergency call from the hospital. She leaves the maid and a watchman in charge. At this point, the story begins to horrifically spin out-of-control, as Akshara seems trapped in some kind of sadistic, dangerous loop that becomes creepier by the minute.
Sayali Bhagat (born in Maharashtra India, 1984) is an actress and former beauty queen, winning the title of Femina, Miss India World in 2004. After graduating from Mumbai University, she enjoyed a modeling career for a few years before turning to motion pictures in 2007. HOME STAY is her 20th film.
A Hindi Indian film with optional ON/OFF English subtitles; widescreen format,
fully uncut (106 minutes), DVD encoded for ALL REGION NTSC WORLD FORMAT;
extras include original theatrical trailer