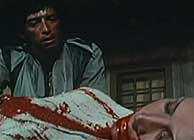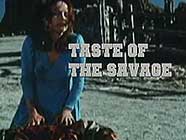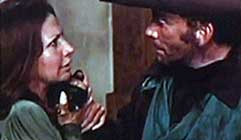 original Italian title OCCHIO PER OCCHIO, DENTE PER DENTE [Eye for an Eye, Tooth for a Tooth]
also known as OJO POR OJO [Eye for an Eye] (Spanish)
and EL SABOR DE LA VENGANZA (Taste for Vengeance)

director: Alberto Mariscal (as Albert Marshall)
starring: Isela Vega · Cameron Mitchell · Jorge Luke · Helena Rojo · Nick Georgiade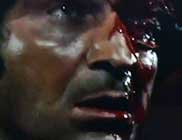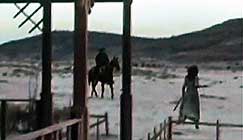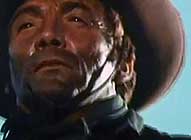 Spanish filmmaker Alberto Mariscal directs this Italian-Mexican co-production with an unrelenting vengeance, allowing it to boil over with brutality and graphic violence. Mexican sex starlet Isela Vega - probably best known to American audiences for her sultry performance in the Mandingo sequel DRUM - is very effective as an incestuous mother who becomes obsessed with hate when her husband gets killed by a pack of gunmen. Sara hires a notorious gunfighter named Huck to teach her son Judd the art of the pistol and then she controls the boy's "new passion" through her warm bed.
This brazenly graphic Western benefits well from its International roots. Although shot in Mexico with a predominately Mexican cast, the production team is mostly Spanish and Italian. In the tradition of other violent, nihilistic Spaghetti Westerns (ie., VENDETTA AT DAWN, DJANGO THE BASTARD, VENGEANCE IS A DISH BEST SERVED COLD and later SCALPS) there are extra-large helpings of grit and gore, as victims often get shot in the face with blood spurting from their eyes and mouth [see above LEFT]. The film also dwells on Judd's sadistic moments, as he violently rapes his former girlfriend and, then later in the desert, he shoots a man in the arms and legs, relinquishing him to a slow death.
American actor Cameron Mitchell is the real star here. He gives an over-the-top performance of a bounty hunter with a conscience, deeply regretting that he has turned the boy Judd into a killing machine. Cameron Mitchell came from USA television. After establishing himself as Buck Cannon on the hit TV series High Chaparral (1966-71), he became involved in numerous European peplums (Mario Bava's KNIVES OF THE AVENGERS), fantasy/ actioners (SUPERSONIC MAN) and Spaghetti Westerns (Sergio Corbucci's MINNESOTA CLAY). Cameron eventually returned to the United States for a decade of B-Movies and grindhouse projects, always considered 'higher quality' due to his involvement. He was especially appreciated by genre fans for TOOLBOX MURDERS, THE DEMON, and NIGHTMARE IN WAX. Cameron Mitchell was a heavy smoker who, after starring in 200+ projects, died of lung cancer at the age of 75 in July 1994.
A Mexican/Italian/Spanish co-production in English language; original fullscreen format (4:3),
uncut version at 85 minutes, encoded for ALL REGIONS NTSC,
playable on any American machine; Extras include selected trailers.

    

Graphic Violence/Gore/Rape/Semi Nudity/Sexual Brutality
For Adult Audiences