Blockbuster Fantasy upsets the Authorities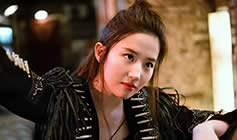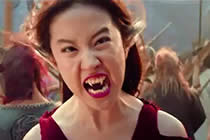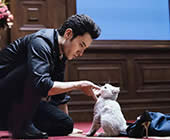 original Chinese title: ER DAI YAO JING [The Second Generation of Demons]

director: Yang Xiao
starring: Feng Shao-Feng (as William Feng) · Liu Yi-Fei · Li Guang-Jie · Guo Jing-Fei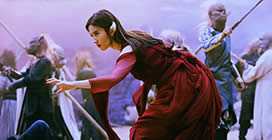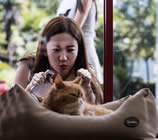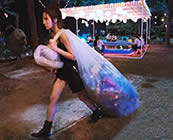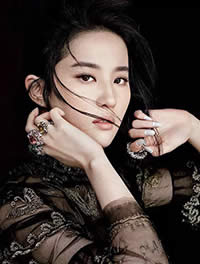 Hanson is a failed actor, now heavily in debt after taking a huge loan to direct his own film and being scammed in the process. Today, he is (literally) shoveling shit, trying to make a living at a zoo owned by his clinically insane father. Hanson turns to an on-line dating service, hoping to find a rich wife to solve his problems. That's how he meets Bai Xian, a young woman who tells him that she's a fox demon - part of a tribe that assumes human form to live safely in the world - and that she is indebted to him for saving her life when she was a kid. Seemingly, many years ago, she was a little fox bullied by older foxes at his father's zoo and Hanson rescued her. Now, the fates have brought them together and she's in love with Hanson and will do anything to help him. However, such love is strictly forbidden and the leader of the tribe offers Hanson piles of cash to poison Bai Xian.

On the surface, this eye-popping fantasy looks like just another (albeit big-budget) attempt to corner the youth market, but it is actually a deeply controversial production with many hidden messages, hidden messages that don't sit well with the strict government authorities. There is a distinct liberal agenda here, including a poignant gay and lesbian segment inside a nightclub. But the film's most obvious target is China's conservative "pureblooded" philosophy. Yun, the villain of the movie [looking like a demon Hitler], rails against the mixing of the races but he is actually making a case for ideology control, specifically in support of China's continued censorship of the arts and world news.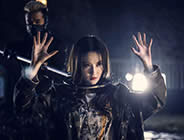 A Chinese film with English and Chinese subtitles; widescreen format, fully uncut 110 minutes),
DVD encoded for ALL REGION NTSC WORLD FORMAT.
Extras include original trailer.