Two Rare SION SONO Features on One Extended Disc!
FILM 1
UTSUSHIMI [Hollow Body] (2000) (110 MIN)
directed by Sion Sono
Arakawa Shinichirô · Araki Nobuyoshi · Moro Akaji · Keiko Hamaguch · Masato Iida · Sion Sono
FILM 2
I AM SION SONO (1985) (32 MIN)
directed by Sion Sono
Sion Sono · Rokoko Nanagawa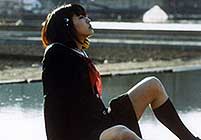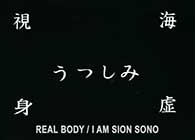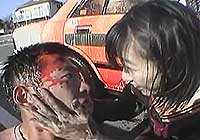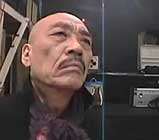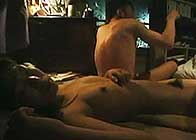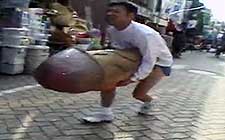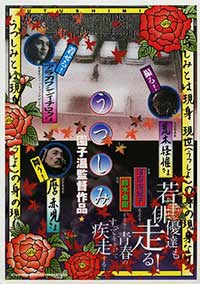 Sion Sono made this film after THE ROOM and a year before his breakout cult hit SUICIDE CIRCLE. It's a pseudo-documentary that features both Budoh Master Maro Akaji and world-famous erotic photographer Araki Nobuyoshi (among others) racing against time to create art and help a school girl get laid. The film is an absolutely bonkers lampoon of art-house cinema that constantly segues from one insane moment into another. There are Budoh lessons, the fever dreams of a fashion designer, behind the scenes footage of Sono and his parents, photographer Araki painstakingly trying arranging a roomful of naked girls.
  But the real plot deals with a hyperactive schoolgirl who decides to give her virginity to a young sushi chef even though they don't know each other. To convince him, she steals the Hachiko statue from the Shibuya train station and drags it back to the restaurant. But even though the promise of sex is appealing, the boy is in over his head. She is an emotional roller coaster and he is overwhelmed by it (see the pic of the lad and his huge hardon, above right) which leads to a frantic, gasping conclusion.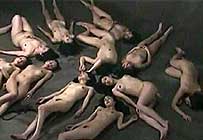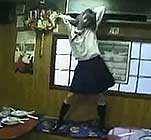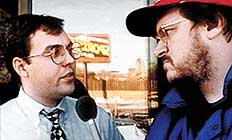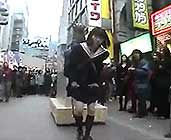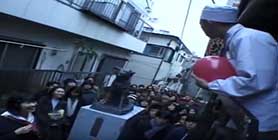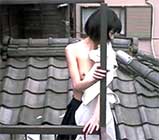 The second film is this package is I AM SION SONO, the director's debut project, made 15 years prior in 1985. It is a short 32 minute home movie in which Sono contemplates his life as he approaches his 22nd birthday. It won the 1986 Grand Prix at the PIA Film Festival, granting him the necessary funds for filmmaking ventures. Essentially, this is an intensely personal collage with three sections of random footage. The longest segment features Sono's hyper interaction with girlfriend Rokoko as he constantly screams and teases her. The next scene shows him in an orgasm as he forcibly undergoes a haircut. The last section - arguably the most creative - takes place in an old art shop where Sono muses over sexual relations. The images below are from I AM SION SONO: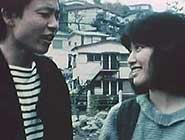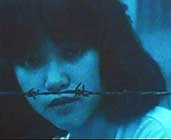 Two Japanese films, with English subtitles; widescreen format,
uncut (110 + 32 minutes), extras include Sion Sono trailer.
DVD encoded for All Region NTSC World Format.
Nudity/Sexual Brutality/Violence
for Mature Audiences only