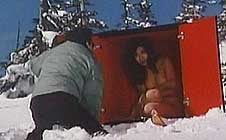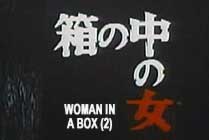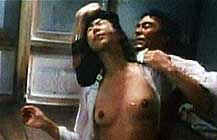 original Japanese title HAKO NO NAKA ONNA [Woman in a Box]
also known as CAPTURED FOR SEX 4

director: Masaru Konuma
starring: Ryouta Nakanishi · Shihori Nagasaka · Miyuki Kawamura · Natsumi Asai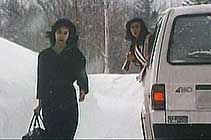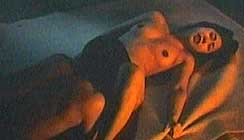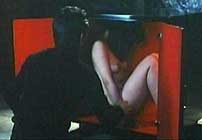 Director Masaru Konuma originally wrote a script about a man who runs a small resort in the mountains which he uses literally as a tourist trap. Nikkatsu studios gave him the green light for the project but then started back-peddling. It seems the company had already promoted the title as a hardcore porno film, designed to launch the new Harder than Pink direct-to-home-video collection.

Konuma was furious over the studio tampering with his script (which had been based on a story by Kazuo 'Gaira' Komizu of ENTRAILS OF THE VIRGIN fame). He pulled the project from the production schedule. However, an accord was finally reached between him and the company. Mr Konuma agreed to deliver a shot-on-video sex movie called Woman in the Box: Virgin Sacrifice in exchange for the studio financing his original script as a theatrical project under the Woman in the Box title.
This, then, is the movie Konuma wanted to make and it's especially obvious from the care put into the production. Similar in style to his S&M classics FLOWER AND SNAKE and WIFE TO BE SACRIFICED, this one tells the story of a young woman on vacation who is captured after her husband has a skiing accident in the mountains. The kidnapper, a mild-mannered resort owner, keeps the girl in a 3X5 box in the basement where he teaches her "the joys of freedom through domination." Eventually, after days of torture and brutalization, she escapes only to return to the lifestyle on her own free will. By contemporary standards, this is a reprehensible message, but the film remains one of Masaru's best-looking projects. It would also be his last for Nikkatsu. The disagreement left such a bad taste that he walked away from the studio that had been his home since 1971 to join Nihon Television where he would flourish as a TV action director. In the mid '90s, Masaru Konoma returned to the big screen with a lurid thriller, MURDER FOR PLEASURE.
In 1998, Asian Cult Cinema magazine interviewed Masaru Konuma (see issue ACC 22). When asked: "Who is Japan's most underappreciated director?" he replied: "Besides me?" A few short years later, Hideo Nakata (the director of RING), made a theatrical documentary about Masaru Konuma - SADISTIC AND MASOCHISTIC - honoring him as "a true master of cinema." Today, he is considered a Japanese icon. Mr Konuma is currently enjoying his retirement quietly in Tokyo at age 83.
A Japanese film, with English subtitles; widescreen format,
73 minutes, encoded for ALL REGIONS NTSC,
playable on any American machine; Extras include selected trailers.

Please Note: As typical of all Japanese Pink Films
from this era, genitalia shots are censored



Graphic Violence/S&M/Sexual Brutality/Nudity
For Adult Audiences Only