Trashy, Lurid, Psychedelic '70s Euro-Horror
featuring an unlikely Boris Karloff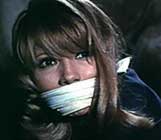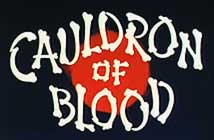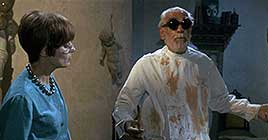 original Spanish title EL COLECCIONISTA DE CADAVERES [The Collector of Cadavers]

director: Santos Alcocer and Edward Mann
starring: Jean-Pierre Aumont · Viveca Lindfors · Boris Karloff · Rosenda Monteros · Dyanik Zurakowska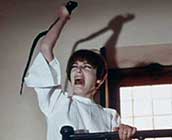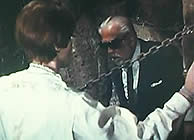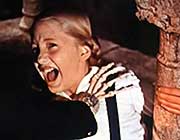 An old, blind sculptor works diligently on his armatures. But he is unaware that the basic foundation of his sculptures are human skeletons, the remains of victims slaughtered by his insanely wicked wife, Tania. He is also oblivious to the fact that she is planning to eliminate him, as well, in a cauldron of acid kept in the torture dungeon.
The motion picture ran into one problem after another. The production began in 1967 with aging actor Claude Raines as the sculptor, but Mr Raines died a few weeks into the shoot. He was replaced by another aging horror actor, Boris Karloff, brought from England. His role of artist Franz Badulescu is essentially a cameo, but Karloff's participation gave the film some notoriety. He would die before the film's release, in February 1969 from Emphysema at age 82. Jean-Pierre Aumont, the French movie-star idol, plays playboy journalist/ photographer Claude Marchand who travels to Spain to interview the master sculptor Franz. Mr Aumont would make another hundred movies (including Mylene Farmer's GIORGINO) before his death at age '90 in 2001.
However, the real attraction here lies in the female members of the cast. The film is punctuated by an over-the-top performance from Viveca Lindfors as the sex-crazed, bisexual S&M freak, Tania. She was originally an actress in Sweden, discovered by Warner Bros, taken to the USA in the late '40, and starred with Ronald Reagan in her first Hollywood film, Night Unto Night (1949). A series of B-Movies followed, leading to many television parts [from Ben Casey to The Untouchables] before returning to Europe where she starred in numerous genre films including the notorious BELL FROM HELL. Cult fans know Viveca best for her role as Ms. Collins in SILENT MADNESS. Viveca Lindfors would star in another 66 films before her death in October 1995 from Rheumatoid Arthritis complications, at age 74. Euro sex kitten Dyanik Zurakowska plays a perversely unwitting muse to the blind artist's master work here. Dyanik, born to missionary parents in Elisabethville, Congo (1947), made 44+ films between 1965-77 including VAMPIRE'S NIGHT ORGY, SEXY CAT and numerous Paul Naschy movies (HANGING WOMAN, MARK OF THE WOLFMAN, et al). She retired from the business in the late '70s and lives quietly today in Spain.
The production itself had problems complicated by the failing health of director Santos Alcocer (It would be his last film, as Mr Alcocer died in 1979 at age 87). American Broadway stage producer/director Edward Mann was hired to assist and help finish the movie. This mega-sleazy film was eventually released in 1970 - three years after the project began - with many scenes reshot at the new director's whim adding to even greater continuity troubles.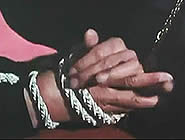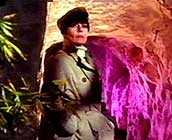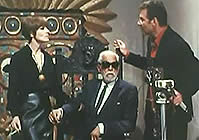 A Spanish film in English (Shot in English); fullscreen format (4:3), uncut (95 minutes),
DVD encoded for ALL REGION NTSC WORLD FORMAT;
extras include selected theatrical trailers.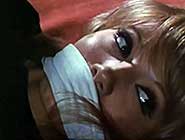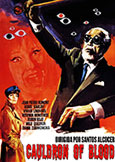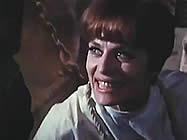 Graphic Violence/Sexual Situations/S&M/Torture/Sexual Brutality/Gore
recommended for Mature Audiences