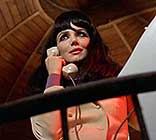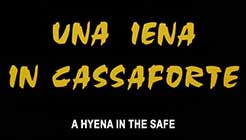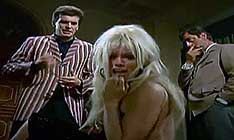 original Italian title UNA JENA IN CASSAFPRTE [A Hyena in the Safe]

director: Cesare Canevari
starring: Marie Luise Greisberger · Dimitri Nabokov · Cristina Gaioni · Ben Salvador · Karina Kar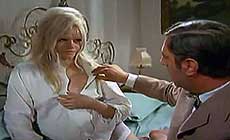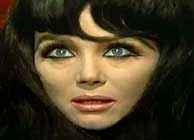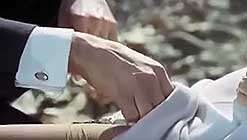 Four notorious bank robbers - Klaus from Germany, Albert from France, Juan from Spain and Carina from Tangiers - meet at an isolated Castle in Italy to divide a large number of diamonds stashed there by their former, now deceased, boss Boris whose wife Anna is hosting the 'party.' Unfortunately, the gems are kept in a massive, unpenetratable safe that can only be opened with all five of the keys which Boris had given to his colleagues after the heist. However, French guy Albert doesn't have his key. This obviously upsets everybody. They're also agitated because he brought his sexpot girlfriend Jeanine along. Very soon, this 'weekend with criminals' becomes very explosive through greed, betrayal, mistrust and sexual tension.
Reminiscent of 24 HOURS OF TERROR and NINE GUESTS FOR A CRIME, this one adds a heavy dose of '60s psychedlia to the potent mix. The result is extraordinary! In many ways - especially in style and visuals - this movie is similar to Mario Bava's FIVE DOLLS FOR AN AUGUST MOON (although this one was made two years prior). It is the debut film for director Cesare Canevari who would helm 10 motion pictures during Italy's Golden Period (1965-85). Just after this one, he made IO EMANUELLE with Erika Blanc, followed by the eccentric Spaghetti Western MATALO. In 1976, his films turned sleazier with Ajita Wilson's NUDE PRINCESS, then the over-the-top Nazi atrocity film LAST ORGY OF THE THIRD REICH and lastly KILLING OF THE FLESH. Mr Canevari died from natural causes in October 2012 at age 85.
Lead actress Marie Luise Greisberger made this movie and disappeared. Although she received praise and notoriety for this role, she resigned from show business and retired to parts unknown. The other notable actress here is blonde bombshell Cristina Gaioni. She began her career in 1959 at age 19, co-starring in a variety of B-Films and Peplums until her break in 1965's NIGHT OF VIOLENCE. The next decade would be a good one for Ms Gaioni [sometimes credited as Cristina Gajoni] with 25+ films including cult favorites like WOMEN IN CELLBOCK 7, FLESH FOR FRANKENSTEIN, Sergio Begonzelli's Spaghetti Western CISCO and Rino Di Silvestro's PROSTITUZIONE. Ms Gaioni retired in 1991.
An Italian film, with English subtitles; widescreen format,
89 minutes, encoded for ALL REGIONS NTSC,
playable on any American machine; Extras include original Euro trailer.


  

Violence/Sexual Brutality/Crime/Nudity
For Adult Audiences