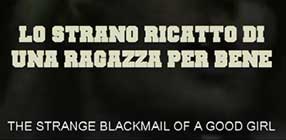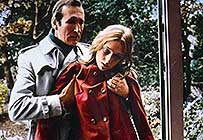 original Italian title LO STRANO RICATTO DI UNA RAGAZZA PER BENE
[The Strange Blackmail of a Good Girl]
also known as BLACKMAIL

director: Luigi Batzella (as Paolo Solvay)
starring: Brigitte Skay · Benjamin Lev · Rosalba Neri · Luana Brown · Darla Abrem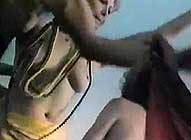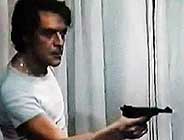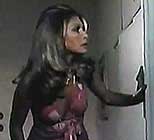 The [Italian] title is obviously tongue-in-cheek as Babel is FAR from being anything close to a 'good girl.' The film opens as topless Babel (played by Brigitte Skay) - draped in beads, full of weed - is dancing in a hippie club. One police bust later, Babel is delivered to her embarrassed father, fretting over his ruined reputation. She responds by heading to the beach [still topless] with Claudio, Rik and Eva. While frolicking in the sand, these hippies plan a fake kidnapping (with a $250,000 ransom) to get back at daddy and his unhip agenda. But when dad hands the whole mess over to his new, young bride Stella (Rosalba Neri), things quickly fall apart for both sides.
Lot of nudity and hippie shenanigans - plus numerous murders and plot twists - throughout this movie. Plus there's a surprising cat-fight that morphs into a steamy lesbian sex scene. This thriller from Luigi Batzella is truly an little oddity, despite the admittedly tired central plot. Director Batzella started his career as a character actor. He appeared in 30+ films, performing under his Paolo Solvay alias (i.e., playing a police investigator in THE BLOODSUCKER LEADS THE DANCE). As a filmmaker, Luigi Batzella directed a dozen movies. He often used the Solvay pseudonym but sometimes he signed his features as Paul Hamus, Dean Jones or Ivan Kathansky [that name was used for his Naziploitation BEAST IN HEAT and LAST DAYS OF THE S S.]. Luigi is probably best known for SLAUGHTER OF THE VAMPIRES, DJANGO'S CUT PRICE CORPSES and NUDE FOR SATAN. Mr Batzella died from Parkinson's Disease in November 2008 at age 84.
This is probably Brigitte Skay's best performance, certainly it's her most nude-worthy. She was born Brigitte Johanna Riedle in Germany, made a pair of films for Mario Bava (BAY OF BLOOD and FOUR TIMES THAT NIGHT) and starred in numerous cult movies including the British SciFi actioner ZETA ONE, ISABELLA DUCHESS OF THE DEVIL and the aforementioned BEAST IN HEAT. Ms Skay retired after 15 years and 40+ movies; she died at age 72, November 2012.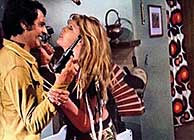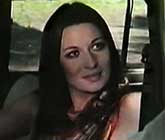 An Italian film, in English language with nonremovable Finnish subtitles;
fullscreen format, uncut 77 minutes, encoded for ALL REGIONS NTSC,
playable on any American machine; Extras include selected trailers.


     

Violence/Nudity/Drugs/Sexual Brutality/Lesbianism
For Adult Audiences