The First Japanese Erotic Film Brought to Trial on Obscenity Charges
from One of Japan's most Controversial Directors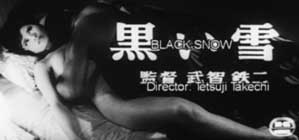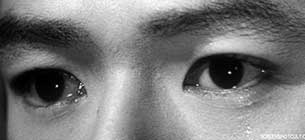 original Japanese title KUROI YUKI [Black Snow]

director: Tetsuji Takechi
starring: Kotobuki Hananomota · Akira Ishihama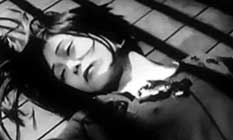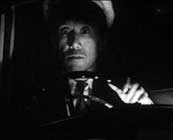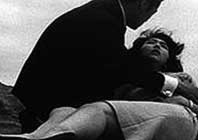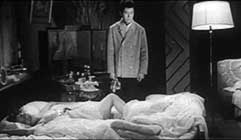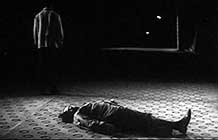 In 1965, director Takechi decided to square off against the government censors with this adult-themed hot potato. It's the story of a maladjusted son of a prostitute. The boy is impotent unless he's stroking a loaded pistol while making love. It's easy to see some quirky psychological problems here. But in reality, he's unconsciously reacting to his hatred for Americans, a deeply rooted hostility charged by the victimization of his mother at the hands of hungry soldiers on the military base in Yokota. Eventually, the young psycho shoots a black GI and is immediately taken and executed by American MPs.
The Japanese government retaliated against Tetsuji Takechi and his film. He was arrested on public indecency charges, the first such case of censorship in Japan. The resulting trial was a Media circus, not unlike the famous U.S. trial [also in 1966] against William S Burroughs and Grove Press for the publication of Naked Lunch. Renown authors and notorious filmmakers (including Nagisa Oshima and Seijun Suzuki) testified in court. The trial became a war zone, pitting the avant garde intellectuals against the conservative government machine. Takechi won his day(s) in court, which essentially opened the floodgates for 'total narrative freedom,' but the authorities still maintained strict laws against any depiction of genitalia, a law that remained in effect until 1994 with the release of Bannei Takahashi's NEW LOVE IN TOKYO.
A side story: In 1983, Takechi helmed a hardcore (XXX) fantasy film called Koya Hijira (Scared Koya) which he refused to cut, censor or fog. It was never shown in Japan. Instead, he took advantage of America's more liberal porn laws and premiered the film in Guam, a US providence. The movie ran for more than two years, playing mostly to Japanese tourists who visited the island. The film was not permitted back in Japan and it is believed that Customs Officials destroyed all prints. Tetsuji Takechi died of natural causes in 1988 at age 75.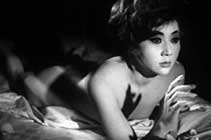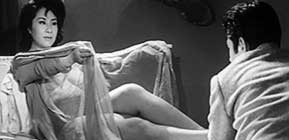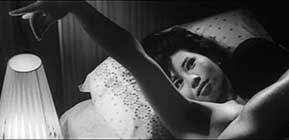 A Japanese film with English subtitles; widescreen format (16:9), (89 minutes),
DVD encoded for ALL REGION NTSC WORLD FORMAT;
extras include selected theatrical trailers.