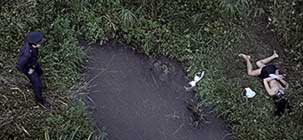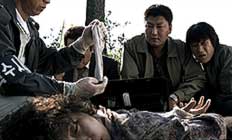 original Korean title SALINUI CHUEOK [Serial Killer]

director: Bong Jun-Ho
starring: Song Kang-Ho · Kim Sang-Kyung · Byun Hee-Bong · Kim Roe-Ha · Koh Seo-Hee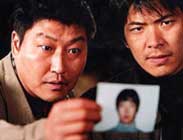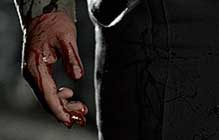 Often compared to David Fincher's Zodiac, this Korean thriller has been called "One of the best movies ever made. Period" [critic Tony Zhou] and is on Quentin Tarantino's Top 20 All Time Best list. It's based on the true story of South Korea's first serial killer, an unsolved case known as the Gyunggi Sex Slayer. The movie became that country's top grossing movie of 2003.
In 1986, the body of a young woman is found brutally raped and murdered in the rural Gyunggi Providence. Two months later, there are more rapes/murders under similar circumstances. In a country that has never known such crime, dark whispers of a serial killer begin to grow. A special task force is established consisting of two local detectives Park Doo-Man (Song Kang-Ho) and Jo Young-Goo (Kim Nae-Ha). They are essentially ill-prepared for the job, trying to solve the case with archaic techniques and limited capabilities. A meticulous detective from Seoul, Seo Tae-Yoon (played by Kim Sang-Gyung), is recruited to help in the case. The differences in investigative techniques soon cause a clash among the members of the team. But it seems the entire effort is doomed from the start as some things are unknowable. Insolvable.
Like the aforementioned Zodiac, this movie is a lesson in futility. The narrative is more concerned with the characters as they come to grips with their own shortcomings, how they accept the inevitable frustration of failure and how they deal with their own crisis of morality caused by that personal challenge. This movie is NOT the traditional who-done-it.
Director Bong Jun-Ho started as a scriptwriter in the '90s, penning the erotic film MOTEL CACTUS and the actioner PHANTOM THE SUBMARINE before striking out on his own with this movie. He followed MEMORIES OF MURDER with the enormously popular monster flick THE HOST and then the quirky horror/thriller MOTHER. His lead actor here, Song Kang-Ho, stars in most every one of his films, but Song is also known for SIRI, SYMPATHY FOR MR VENGEANCE and THE GOOD THE BAD AND THE WEIRD.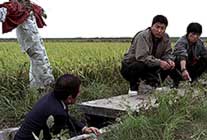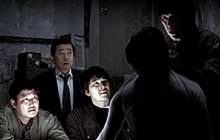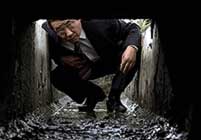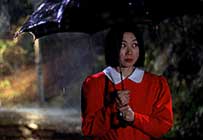 Korean film with optional English subtitles; widescreen uncut version (131 min.)
in DVD format, encoded for ALL REGIONS, playable on any American DVD machine.
Extras include original theatrical trailer.
Graphic Violence/Adult Material/Rape/SemiNudity
Recommended for Mature Audiences
·