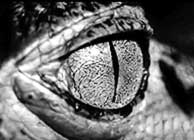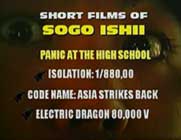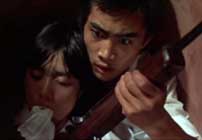 Gakuryű Ishii (now known as Sogo Ishii) was born January 1958 in Hakata, Japan. He is a film director and writer, often credited for introducing the Cyberpunk Wave to Japanese Cinema with his BURST CITY (1982). He also evolved into a major award-winning director after releasing his surreal masterpiece LABYRINTH OF DREAMS and the exceptional chambrara actioner GOJOE.
The first of the following short films (PANIC IN THE HIGH SCHOOL) was actually a high school project, shot in 1976 and helped him gain entrance into the prestigious Japan University as a film student. He established an off-campus production annex called Crazy Movie Society. There, Ishii and future-Nikkatsu director Yukihiro Sawada began story-boarding a new film that would depict the debilitating stress of college entrance exams. That project would become the basis for Ishii's second short film (ISOLATION 1/880,000). In tandem, during this time, he also reworked PANIC IN THE HIGH SCHOOL into a full feature which would eventually find distribution.
Upon graduation, Ishii went to work for Toei Studios where he fine-tuned his craft and directed his early Cyberpunk movies. Between studio projects he dabbled again with the short-film format, resulting in his third project CODE NAME: ASIA STRIKES BACK (1983). The fourth one came many years later, after Ishii befriended actor Tadanobu Asano during the LABYRINTH OF DREAMS shoot. In 1997, they formed an industrial punk band called Mach 1.67 ,  playing sporadic gigs and recording albums for the next ten years, while both continued active schedules in the movie business. Their music served as the soundtrack for ELECTRIC DRAGON 80,000 V. The band would break up in late 2001. Asano had become a major Japanese movie star (with the release of ICHI THE KILLER, SURVIVE STYLE 5+, VITAL, et al) and simply no longer had time nor the ability to continue; while Ishii - now in his early 60s - was forced to take a reprieve for several years due to health issues.
______________________________________________
SHORT FILM ONE
PANIC IN THE HIGH SCHOOL
(1976) starring Masanobu Umezu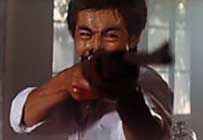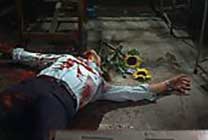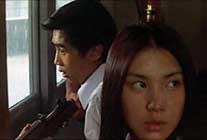 Here is the story of an embarrassed student who decides to kill his overbearing teacher and spread terror to the students, when he brings a rifle to his high school. This short film (15 minutes) was shot when Sogo Ishii was a Senior in his school. It stars fellow student Masanobu Umezu [in his only film].
______________________________________________
SHORT FILM TWO
ISOLATION 1/880,00
also known as ONE DIVIDED BY 880,000 (1978)
starring Hidehiko Masaki ˇ Izumi Yamazaki ˇ Yumino Chikamatsu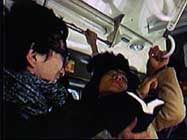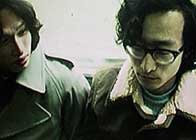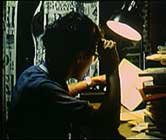 An intelligent but socially awkward boy has failed the college entrance test three times and is preparing for his 4th [and final] attempt. But the stress is too much to bear and he has become dangerously unhinged.
(48 minutes)
______________________________________________
SHORT FILM THREE
CODE NAME: ASIA STRIKES BACK
Japanese title AJIA NO GYAKUSHU (1983)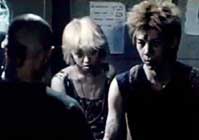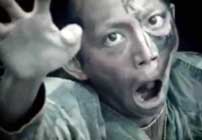 After the bomb, four soldiers with extrasensory powers are sheltered in an underground bunker where they continue training to expand their psychic abilities, while fed information from their leader "K" via computer. Many years later, when the transmissions stop, the four become restless. One of them, Kic, wants to leave the bunker and fight the enemy above ground. They finally open the shelter door to find...
Note: Sogo Ishii plays a character named Brain in this short film (above pic, LEFT). (30 minutes)
______________________________________________
SHORT FILM FOUR
ELECTRIC DRAGON 80,000 V
(2001) starring Tadanobu Asano and Masatoshi Nagase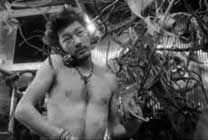 Ryugnji Morrison was shocked by high voltage wires when he was young. This caused his brain to activate the 'reptile' cells which are normally dormant in humans. Whenever his anger mounts, he discharges electricity uncontrollably, calmed only by playing his electric guitar. When he is challenged by (the even stronger) Thunderbolt Buddha, all hell breaks loose in the city. Besides the aforementioned Tadanobu Asano, this film features cult actor Masatoshi Nagase, best known for the Japanese MIKE HAMMER films, Seijun Suzuki's PISTOL OPERA, and STEREO FUTURE. (55 minutes)
_____________________________________________
A collection of four Japanese short films on one extended DVD
with English subtitles; fullscreen format, 150 minutes),
DVD encoded for ALL REGION NTSC WORLD FORMAT
Sexual Situations/Nudity/Violence
Recommended for Mature Audiences