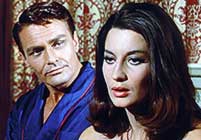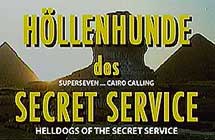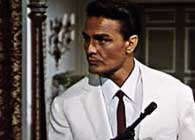 original German/Italian title
HOLLENHUNDE DES SECRET SERVICE

[Helldogs of the Secret Servive]
director: Umberto Lenzi
starring: Roger Browne · Rosalba Neri · Fabienne Dali · Massimo Serato · Dina De Santis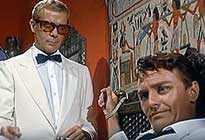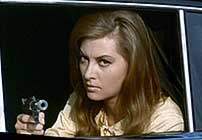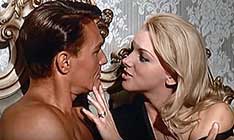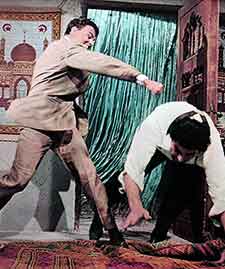 Umberto Lenzi knew damn-well what he was doing here and he didn't try to hide his mission. He was capitalizing on Ian Fleming's Internationally famous 00-Spy. In fact, at one point in the film, hero Martin Stevens says: "Shhhh.... I'm a secret agent. You know, like James Bond!" But he's not a mere 007, he's SuperSeven. And from the very first scene - with sexual pleasure and danger rolled into one - Lenzi delivers the essential ingredients of this genre. The exotic locations of Rome, Cairo and Locarno add to the authenticity. Plus the women are not only gorgeous, but also critical to the plot.

A Russian agent steals a newly developed radioactive metal. He stores it inside a camera for easy transit. But before he can get the metal out of Egypt, it falls into the hands of an unsuspecting tourist. Secret agent Martin Stevens is put on the case with female spy Denise (Dali) and Cairo agent Faddja (Neri) who has been severely compromised and is now working with the bad guys.
Lead actor Roger Browne was originally from Cincinnati Ohio. After kicking around Hollywood for a few years, he joined filmmaker Richard Fleischer (and crew) for the Italian/American shoot of Barabbas in 1961. Browne was contracted to be part of the voice dubbing team. He enjoyed his job and the Italian landscape so much that he opted not to return to the States. Over the next few years, Roger continued the voice-work and became the president of ELDA (English Language Dubbers Association). After doing some incidental acting in various Peplums, he made the Italian TV movie Hercules and the Princess of Troy (1965) and went on to debut as a headliner in this spy project. Over the years, Roger would star in a variety of genre films from EMANUELLE IN AMERICA to the outrageous superhero spoof ARGOMAN, from WOMEN OF CELLBLOCK 7 to SAMOA QUEEN OF THE JUNGLE. Mr Browne returned to the United States in 2008 and has appeared on several television shows, as he continues to act even as he's turned 90 in 2019.