Toshio Matsumoto's Downward Spiral into Madness and Despair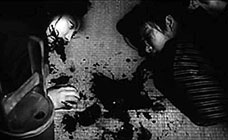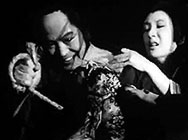 Original Japanese Title: SHURA [Bloodshed]
also known as DEMONS and PANDEMONIUM
director: Toshio Matsumoto
starring: Kazuo Nakamura · Yasuko Sanjo · Juro Kara · Masao Imafuku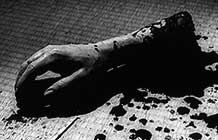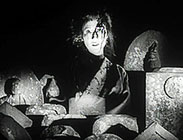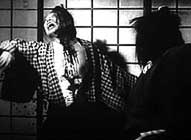 FUNERAL PROCESSION OF ROSES is a hard act to follow. It's generally considered one of the best counterculture films ever made. And it was the filmmaker's debut in 1969! Methodical director Toshio Matsumoto took three years to complete this - his second - film, a controversial cult movie, years ahead of its time.
This is a project based on one of the least popular Kabuki plays written by Nanboku Tsuruya [GHOST STORY OF YOTSUYA]. It tells the story of a samurai forced to accept a life of violence when he vows to take vengeance against a geisha who stole from him. Gengobei finds himself "doomed to walk the path of demons, a downward spiral into madness and despair." This movie is as bleak and hopeless as any jidaigeki ever made. Many critics compare it to SWORD OF DOOM. But there's a big difference. In that film, Tsuke starts on the Great Buddha Mountain and slowly cuts his way into his own private hell [essentially, the last 20 minutes of the film]; whereas, here, Gengobei starts in hell and plunges even deeper into the dark abyss.
Director Matsumoto takes the source material at face value; he does not attempt to homogenize it for the motion picture market. Rather, he vividly reconstructs the atrocities suggested in the original play. Matsumoto uses stop-motion animation, innovative cinematography, and some highly creative editing techniques resulting in a motion picture that manages to look as fresh and new today as it did in 1971. However, the conclusion which depicts the killing of an infant is excessive even by Japan's liberal standards. The movie was officially banned in the UK and Australia.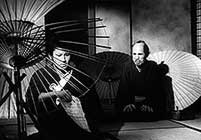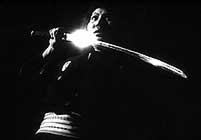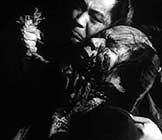 A Japanese film with optional ON/OFF English subtitles; widescreen format,
fully uncut (134 minutes), DVD encoded for ALL REGION NTSC WORLD FORMAT;
extras include original theatrical trailer