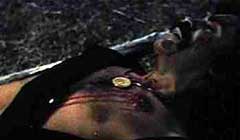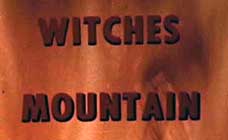 original Spanish title EL MONTE DE LAS BRUJAS [The Mountain of Witches]

director: Raul Artigot
starring: Patty Shepard · Monica Randall · Cihangir Gaffari (as John Caffari) · Luis Barboo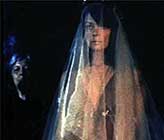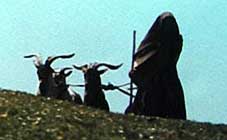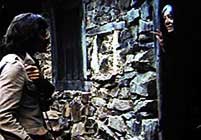 After a bitter breakup with his girlfriend, photojournalist Mario takes an assignment in the Pyrenees Mountains, a desolate area in northern Spain. Enroute, he meets a beautiful freelance writer named Delia. They stop at an ancient hotel where they hear rumors of a dangerous coven of witches haunting nearby mountains. Curious, they investigate.
Some movies seem to exist in a netherland, far removed from even the genre fringe. This is such a film, similar in many ways to other unconventional thrillers [i.e., DEVIL WALKS AT MIDNIGHT, CASTLE WITH THE DOORS OF FIRE and NIGHT OF THE SEX DEMONS. Raul Artigot was best known as a cameraman, graduate of Barcelona's Official School of Cinematography 1961, responsible for lensing 80+ projects between 1963-1984 (including CREATURE, CANNIBAL MAN and Jess Franco's EROTIC RITES OF FRANKENSTEIN). Mr Artigot died from a stroke on Christmas day 2014, at age 78.
This film benefits from two starlets of Spanish cinema. Brunette Patty Shepard was born in Greenville South Carolina but moved to Spain at age 18 for a career in TV commercials. She began acting in the mid '60s and was featured in 40+ productions before retiring in 1985. She is probably best known for ASSIGNMENT TERROR, MY DEAR KILLER and her final film EDGE OF THE AXE. Ms Shepard died from a heart attack at age 67, January 2013. Monica Randall was born Aurora Julią Sarasa in 1942; she is still acting today and has starred in 120+ films. Ms Randall is best remembered for CROSS OF THE DEVIL and INQUISION.