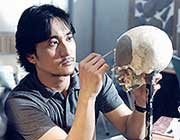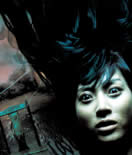 director: Yu Sang-Gon (Yoo Sang-Gon)
starring: Shin Hyun-Jun · Song Yun-Ah · Kim Seung-Wook


An exceptional Korean thriller that is both intelligent and creepy from Yoo Sang-Gon, the director of the erotic YELLOW HAIR films.

A serial killer is murdering people and then melting down their bodies, leaving only bones and skull. The police employ a facial reconstruction specialist, Hyun-min, to help them identify the victims. Meanwhile, the doctor's daughter has become very ill, and he decides to quit the Institute to dedicate more to taking care of her. But his self-imposed retirement does remove Dr Hyun-min from the case. A researcher named Sun-young visits his home with a fourth skull. However, this grisly piece of evidence soon brings an unexpected terror into the doctor's home.

Korean film with optional English subtitles; widescreen uncut (92 min.) version encoded for ALL REGIONS, playable on any American DVD machine. Extras include trailer and bios


Graphic Violence/Adult Material: Viewer discretion is advised.