original Japanese title BOKUSA [Boxer]

director: Shuji Terayama
starring: Bunta Sugawara · Kentaro Shimizu · Masumi Haruawa
Juro Kara · Yosuke Natsuki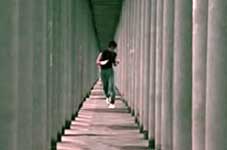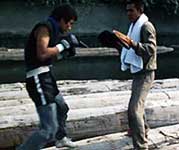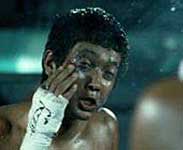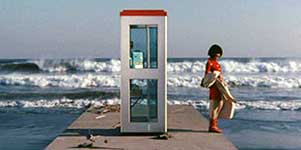 Down on his luck Hayato (played by the legendary toughguy Bunta Sugawara) is living a desolate life in a flophouse, slowly drinking himself to death. His promising career as a professional boxer crashed when he suddenly decided to "quit boxing...." after an accident in the ring during a championship match. For a decade, Hayato has 'lost his will to live.' Suddenly, when his brother is killed in a construction site mishap, Hayato seeks revenge against Kentaro, the young boy responsible. However, after the two meet, an uneasy relationship develops. Kentaro convinces washed-up Hayato to mold him into a champion fighter.
Shuji Terayama was a poet, playwright, novelist, filmmaker, and boxing buff. He even wrote commentary for the sport in his spare time. Shuji once said: "Boxing and horse racing taught me more about life than school." In Japan - and in International art circles - Mr Terayama is treated like a god. A museum dedicated solely to Shuji Terayama is established in Misawa Japan, located in Aomori Prefecture. Unfortunately his work is largely ignored in the United States, probably due to its quirky sexuality. This film is his closest to a mainstream project. But be aware, it's still a Terayama movie. So expect the unconventional.
Mr Shuji Terayama died from Nephrotic Syndrome, May 1983, at age 47. But his experimental, radical vision continues to live through motion pictures [SCANDALOUS ADVENTURES OF BURAIKEN, FRUITS OF PASSION: STORY OF O], through his plays [Hunchback of Aomori, Lemmings to the End of the World, et al], through his controversial art, his poetry and his SHORT EXPERIMENTAL FILMS.