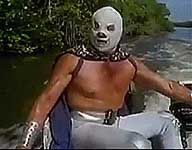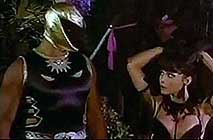 Mexican/Spanish title: SANTO EN LA FURIA DE LOS KARATESCAS
[Santo in the Fury of the Karate Fighters]
alternative Spanish title: SANTO CONTRA FURIA DE LA DIOSA DE LUCHA
[Santo vs the Fury of the Fighting Goddess]

director: Alfredo B Crevenna
starring: Santo · Grace Renat · Cesar Sobrevals · Edgardo Gazcon · Tinieblas · Rene Cardona
This hard-to-find 1982 movie, is the very last film starring the legendary wrestling icon Santo. Set in an unspecified, remote jungle kingdom, it's basically the story of a power struggle between two sisters (both played by the impossibly big-breasted Grace Renat). Good sister Kungyab is always in a white bikini and lives with her rich husband in a wilderness mansion; while the evil twin sister, Queria, wears a black bikini [that seems to shrink noticeably as the film unspools] and is assisted in her web of nastiness by a muscular superman servant Tinieblas. Their struggle is essentially over the Crystal of Power, a pulsating magic stone that fell to earth with the arrival of an interstellar cosmic heroine called Jungle Girl. In the midst of the turmoil [which includes arson, robbery and the creation of a monster during a pagan ritual], everyone has congregated in the jungle for a wedding ceremony between Prince Aching Ka and the Jungle Girl.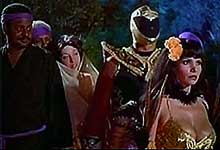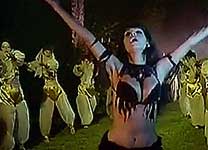 Santo was 65 years old when he made this film. Unfortunately, his film wrestling style was beginning to suffer visibly. In the movie, he has three fights with the much younger Tinieblas. Only one of these is memorable, containing mere flashes of the greatness that made Santo a legend. Realizing his best days were behind him (SANTO IN THE HOTEL OF DEATH, SANTO VS THE ZOMBIES, SANTO AGAINST THE VAMPIRE WOMEN, or SANTO AND BLUE DEMON AGAINST THE MONSTERS), Santo retired from motion pictures and the ring. He appeared on a Mexican variety TV show a few months later and - for the first and only time - unmasked himself. He then embarked on a brief career as an escape artist before dying from a heart attack in February 1984.
The scantily-clad, busty Grace Renat (born Graciela Prior Marín in 1947) spends a lot of time gyrating to various exotic dances here. She was a covergirl model and professional dancer before her career in movies. Grace retired in 1993 after a successful TV series Papá Soltero. Carlos Suárez was Santo's manager throughout his career. He sometimes would play the villain in a Santo film (SANTO VS THE RIDERS OF TERROR, SANTO AND THE BLUE DEMON VS DRACULA AND THE WOLFMAN, et al) but this time he plays Santo's traveling buddy, Cliff. Another interesting actor is former Mexican master director Rene Cardona (BAT WOMAN and BESTIA HUMANA: NIGHT OF THE BLOODY APE) in the role of Professor Williams. This movie was shot totally in Miami Florida USA, the lavish sets are actually (the Vizcaya Museum, Monkey Jungle and Coral Castle).
The "Los Karatescas" [Karate Fighters] title is very misleading. Steve Cheng is the only martial artist in the movie. And he doesn't do any karate. In fact his scenes are inexplicably brief as he disappears halfway through to join evil queen Queria's gang and is replaced in the wedding by wealthy Prince Tegal. No one seems bothered by the interchangeable grooms.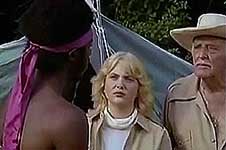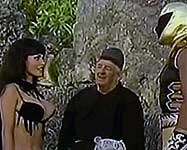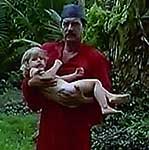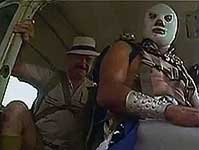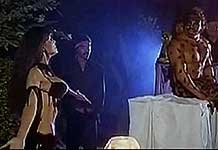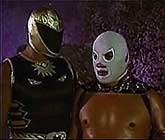 A Mexican film with optional ON/OFF English subtitles; fullscreen format,
uncut 89 minutes; DVD encoded for ALL REGION NTSC WORLD FORMAT.
Extras include theatrical Santo trailers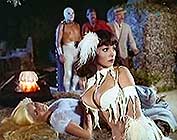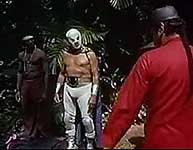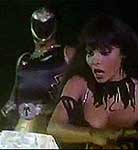 Adult Material/SemiNudity/Violence/Sexual Themes
For Mature Audiences