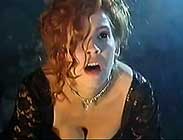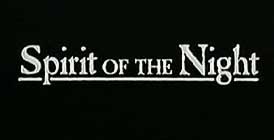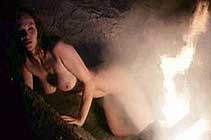 Romanian English title: SPIRIT OF THE NIGHT
also known as THE HUNTRESS: SPIRIT OF THE NIGHT [Edited Version]

director: Mark S Manos
starring: Jenna Bodnar · George Alexandru · Blair Valk · Virgil Andriescu · Constantin Cotimanis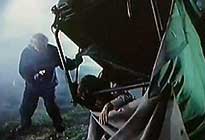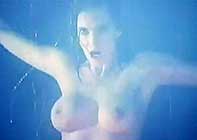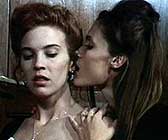 Here is a contemporary erotic horror story about an aristocratic woman who inherits her family's castle in Romania and with it, a werewolf curse. This is the original UNRATED version (86 minutes) which was cut by the distributor's for an 'R' Rating before release in the United States. It's conceptually similar to Pasquale Fanetti's [much] sleazier LYCANTROPUS, which was also filmed in Romania.
A young woman, Tara Wexford, returns to the exotic world of her childhood to claim inheritance after the death of her estranged father. The arrival awakens inner passions and - as Tara cannot control her desire for physical lust - she begins to suspect that she's fallen under some kind of mysterious curse. Unlike the aforementioned LYCANTROPUS, the story does not drift into slap-in-the-face sleaze. Rather, it more resembles a Hammer Film with an exorbitant amount of nudity. Suspense is the main emphasis as the atmosphere is cloaked in foreboding darkness.
This was the first feature film starring Jenna Bodnar, after being introduced in the cable TV series Love Street. She certainly makes the most of this role and - at the time - many critics suggested that she had a promising future in acting. As it turned out, Ms Bodnar returned to cable TV for another sexy series (Erotic Confessions, 1995-96) which was followed by numerous, interchangeable soft-core films, usually with the words "Sex Files" in the title.
Director Mark Manos was a film editor by trade, initially working in Europe and then in Hollywood for the Playboy channel. After this film, he moved to network television. In 2018, he became the director for numerous MacGyver episodes.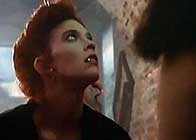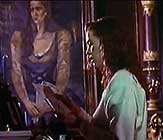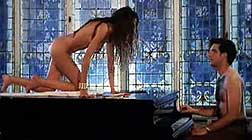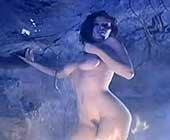 A Romanian/Italian/British film in English language; widescreen format,
uncut 86 minutes; DVD encoded for ALL REGION NTSC WORLD FORMAT.
Extras include theatrical trailer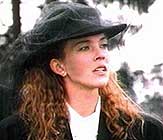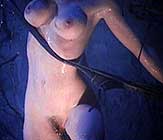 Adult Material/Nudity/Violence/Strong Sexual Themes
For Mature Audiences