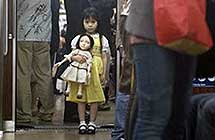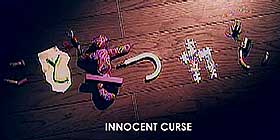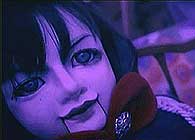 original Japanese title: KODOMO TSUKAI
also known as LITTLE NIGHTMARES

director: Takashi Shimizu
starring: Daiki Arioka · Mugi Kadowaki · Haruto Nakano · Hideaki Takizawa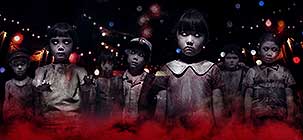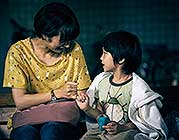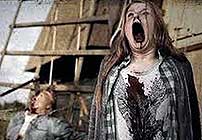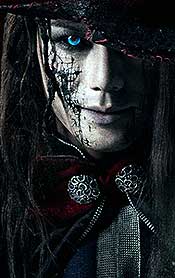 An abused child suddenly vanishes, but then mysteriously reappears a few minutes later. Something fundamental has changed. The person who mistreated the child becomes consumed with dread and is cursed to die three days later. This is a urban legend known as the Tommy Curse, the brainchild of Kodomo Tsukai, a living doll from an alternative fantasy world. He collects the souls of troubled kids to act as his milky-eyeballed army of assassins. The home-base for this bizarre underworld is an old-time Carny Circus where nothing is real but anything can happen. Into this David Lynch fever-dream comes a desperate couple, local newspaper reporter Shunya and his girlfriend Naomi who have been accidentally targeted for the three-day death watch.
The film, written and directed by Takashi Shimizu, is a logical extension from his earlier hits JU-ON: THE GRUDGE and JU-ON: THE GRUDGE 2. The basic premise of 'hellish children ghosts' is the same. But their playground is considerably different.
A Japanese film with optional ON/OFF English subtitles; widescreen format, uncut (111 minutes),
DVD encoded for ALL REGION NTSC WORLD FORMAT; extras include theatrical trailer.