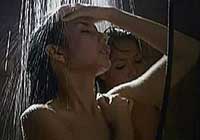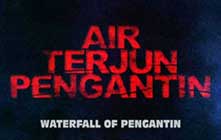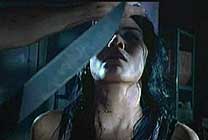 original Indonesian title: AIR TERJUN PENGANTIN [Waterfall of Pengantin]
also known as WATERFALL ON BRIDAL ISLAND
and PLAYMATES IN HELL [German Title]
director: Rizal Mantovani
starring: Tamara Bleszynski · · Marcel Chandrawinata · Tyas Mirasih · Kieran Sidhu · Navy Rizky Tavania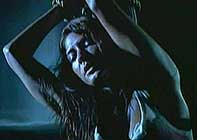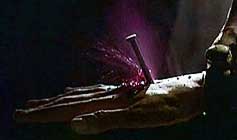 The WOW factor is incredibly high here. Off the scale, actually. Here is a film from Indonesia that caters unapologetically to the exploitation crowd. Beautiful females and chiseled guys [in various degrees of semi-dress] and an evil deformed villain with an insane lust for blood and sex, all tossed together on a deserted island. The whole thing starts when Tiara (model Tamara Bleszynski) plans a trip to remote Pengantin Island with boyfriend Lilo. They are soon joined by niece Mandy and a slew of other attractive young friends. The island is breathtaking [highlighted by Rizal Mantovani's exquisite cinematography] and the kids are making the most of the flawless beach and, of course, the famed waterfall. However, this island is cursed by a horrid event in the past.
A native was set to marry a village girl but she refuses the arrangement. Instead of becoming a bride, she ends up meeting her death at his hands in the raging river. The villagers turn against him, but he and the shaman priest [with the help of black magic] kill everyone in the tribe. Today, his spirit still lives (or maybe it's really him, somehow) and he is determined to eliminate the gang of young people, to make Tiara his new bride. This wild beast stalks and slaughters his victims while skinning them and drinking their blood.
The star is 'forever young,' mega-popular Tamara Bleszynski, a singer, actress and model. She was born on Christmas day in 1974, putting her at 35 when she starred in this film playing a 25 year old. Although born in Indonesia, she and her family moved to Perth Australia in 1976. After her schooling [which includes a BA in Business Management], Tamara moved back to Indonesia in 1996 where she appeared in a daily soap opera called Anakku Terlahir Kembali (1996) after being discovered in a West Java record shop. This is her first project to receive International attention. A sequel was produced in 2014.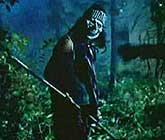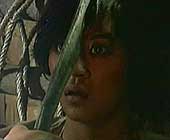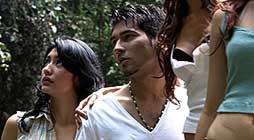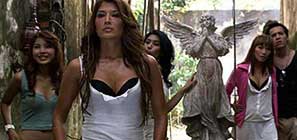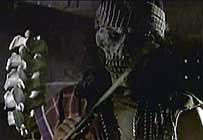 Indonesian film with English subtitles; widescreen format (16:9),
fully uncut (81 min.); DVD encoded for ALL REGIONS, playable on any American DVD machine.
Extras include original theatrical trailer.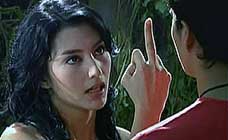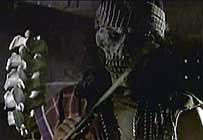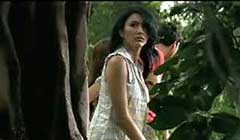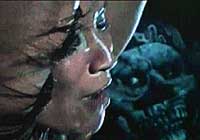 Graphic Violence/Torture/Gore/SemiNudity/Adult Material:
Viewer discretion is advised