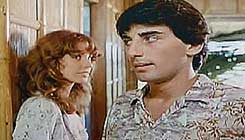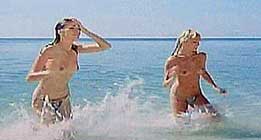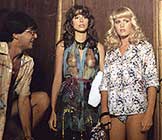 Original German title DREI KESSE BIENEN AUF DEN PHILIPPINEN
[Three Saucy Bees in the Philippines]
director: Siggi Gotz (Siggi Rothemund)
starring: Olivia Pascal · Ursula Buchfellner · Christine Zieri (as Christine Gianna) · Herbert Fux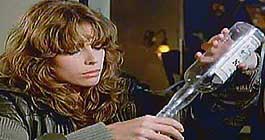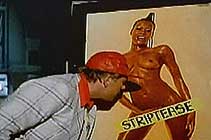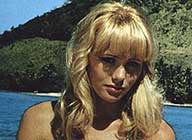 From Siggi Gotz, the director of THE FRUIT IS RIPE and BEAUTIFUL AND WILD IN IBIZA, comes this very odd German sexy comedy. Odd because it's a screwball, slapstick sex comedy. And that's a combination rarely ever seen.
Here's the basic story. Gaby has a fight with her loser boyfriend. While complaining about him to best friend Carmela, she gets talked into a vacation in the South Seas [Manila, Philippines] to clear her head and forget the guy. Enroute, they meet a collection of eccentric people. Among them is Christine [an obnoxious tone-deaf twit played by extraordinarily busty Christine Zieri] and her studious future husband Andreas, planning to get married at a mission church run by bumbling Father Herbert, her brother. Other characters include a dimwitted cowboy who always seems ridiculously clumsy around Gaby. There's also Juanto, a very gay, very fat hotel manager. And - oh yes - a mischievous chimpanzee named Jimmy.
     Gabby instantly decides she wants the groom-to-be for herself, and starts a campaign of dirty tricks to win him over. After trying some extreme tricks (i.e., arranging for a group of Filipino prostitutes to seduce Andreas) she eventually decides the best way to stop the wedding would be to get the church closed down. The poor priest is put through hell, along with the diocese bishop.
Much of the cast, including Olivia Pascal and Herbert Fux, would launch a TV sketch comedy series featuring a who's who of pop and rock groups called BANANAS. With that popular show, Olivia Pascal would become a television star after making a name for herself with a decade of sex comedies (SUMMER NIGHT FEVER, THE FRUIT IS RIPE et al) and erotic thrillers (Jess Franco's BLOODY MOON, BEHIND CONVENT WALLS. She would remain in TV - one hit series after another - for another 30+ years. As of this writing, she now stars in Die Berggefährten [The Mountain Companions].
Her blond cohort here, Carmela, is played by German actress Ursula Buchfellner. For much of the '80s - after this movie - she used the pseudonym Ursula Fellner while starring in genre hits like Franco's SEX CANNIBALS and SADOMANIA. Today, she also has found a home in television, most recently starring in the Dahoam is Dahoam [Home is Home] series. Incidentally, another co-star in this film is Christine Zieri. Shortly afterwards, she changed her name to Dolly Dollar and has been a German TV staple for multiple decades, known especially for her large breasts.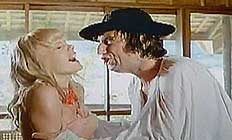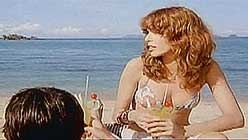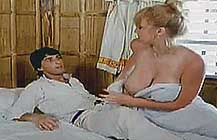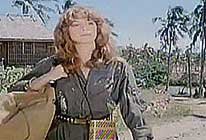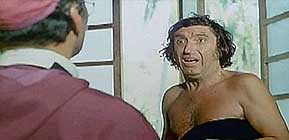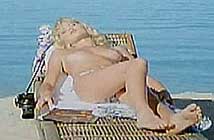 A German film with optional ON/OFF English subtitles; uncut (82 minutes);
DVD encoded for ALL REGIONS NTSC FORMAT; extras include Siggi Gotz trailers


Nudity/Adult Material/Strong Sexuality/Gay Theme:
Viewer discretion is advised.