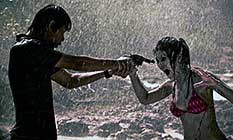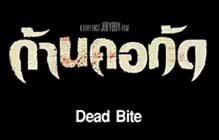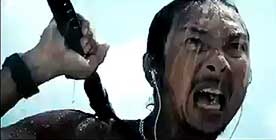 Original Thailand title GANCORE GUD [GANCORE CLUB]
director: Apisit Opasaimlikit (Joey Boy)
starring: Gancore Club with Joey Boy · Humiko Sugaho · Lakana Wattanawongsiri · Pakjira Wisawawisut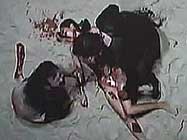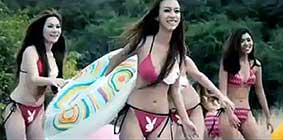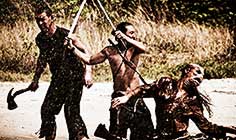 Remarkably similar to Indonesia's WATERFALL OF PENGANTIN [made two years earlier], but this one breaks from the mold and manages to do something different. In fact, there are things in this movie you've NEVER seen anywhere before [for instance, zombies that 'live' in the ocean and can only wander on land when it's raining]. The writer/ director is Apisit Opasaimlikit. That's the real name for Joey Boy, the front man for a popular Thai Hip-Hop group called Gancore Club.
Joey Boy and the Gancore Club find themselves stuck on Mermaid Island when a video shoot goes terribly wrong. Here they are on a desolate, white-sandy beach - with a dozen gorgeous models - when they're attacked by a cannibal tribe! It's a frenzy of blood and flying body parts, further compromised by a torrential thunderstorm. This, of course, brings the zombies out of the ocean. The girls are all butchered in the mayhem, but the Gancore Club manages to get away, mostly intact. One of them has lost a leg and another is without an arm; however, even more serious, some have been infected by zombies and are slowly beginning to turn. There's lot more. See it.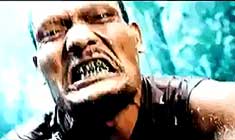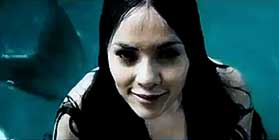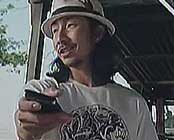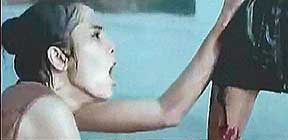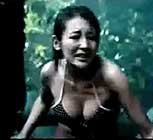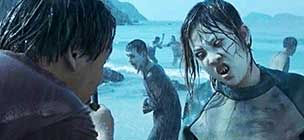 A Thai film with English subtitles; uncut (94 minutes);
DVD encoded for ALL REGIONS NTSC FORMAT; extras include theatrical trailer


Graphic Violence/Gore/Adult Material/SemiNudity/
Viewer discretion is advised.