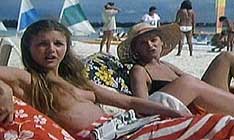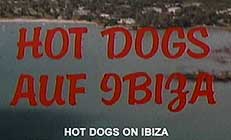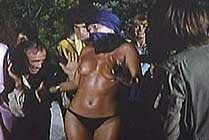 original German title: HOT DOGS AUF IBIZA
also known as ON EST VENU LA POUR S'ECLATER [We Came Here To Have Fun]

director: Max Pecas
starring: Sylvain Chamarande ˇ Ursula Buchfellner ˇ Adrea Schmidt ˇ Sandra Barry ˇ Olivia Dutron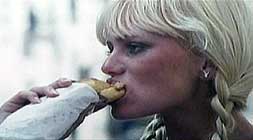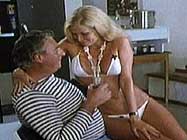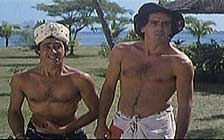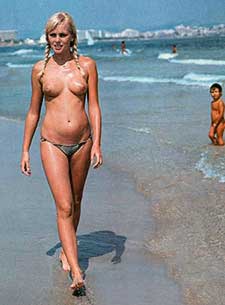 Bored with life in rain-drenched Paris, Christian takes off for a once-in-a-lifetime trip to the sunny resort island of Ibiza (off the coast of Spain). Once there, he is rejuvenated by the beautiful bronzed topless girls. A series of sexy shenanigans and high jinks follow ensuring a great time for all.
   Max Pécas was a French filmmaker who concentrated on softcore exploitation films, seldom touching comedies until much later in his career. He is probably best known for I AM A NYMPHOMANIAC with Janine Reynaud. After a brief flirtation with Hardcore (XXX) in the late '70s [usually under the pseudonym Octave Jackson], he returned to mainstream cinema with this German-made film and a slew of similar fun-in-the-sun fare (obviously inspired by Sigi Gotz comedies like BEAUTIFUL AND WILD OF IBIZA). Max Pécas died from cancer at age 77, February 2003.
   German actress Ursula Buchfellner (right) had just starred in COLA CANDY CHOCOLATE before this film.. For much of the '80s she used the pseudonym Ursula Fellner while starring in genre hits like Franco's SEX CANNIBALS and SADOMANIA.

A German film with optional ON/OFF English subtitles; widescreen format, (78 minutes),
DVD encoded for ALL REGION NTSC FORMAT; extras include theatrical trailer