This is Shûji Terayama's surreal vision of a world where children rule. Adults exist only for the amusement of the children. They are to be incarcerated or killed for any number of violations, including impeding the pleasure of children. Filmmaker Terayama's depiction of a world controlled by children is as ill-conceived and juvenile as the concept itself. Essentially this is a collection of random, fleeting set-pieces as perceived through the wide-eyes of a child with a limited attention span. The kids, armed with guns, knives and paint, rape women, abuse men and attempt to eliminate any signs of the adult world. They often look like they have no idea why they're doing something, but appear to be anxious to do the next thing. There are numerous interpretations of Terayama's revolutionary movie. Generally, it has been explained as a "surrealist attack on Japanese culture, war, and state policies and oppression of the times. It affirms the idea of sex as power with control over people, the policies of violence and fascism, and the new (or young) overthrowing the old."
There also exists an infuriating argument that the movie should be banned as child porn. Terayama was not interested in pornography [which he considered a tool of state oppression] but in creating a vision of erotic utopia. Yes, there are naked children in the film. And some of them rape women. And some have weird half-baked sexual fantasies about assaulting adults. The movie was made in answer to Nazi Holocaust camps, the atomic bomb, the rape of Nanking, the Vietnam war etc. Young Terayama lived through the firebombs that destroyed his town, leaving charred bodies of women and children littered about when he was 9 years old.
Shuji Terayama was a poet, playwright, novelist, artist and filmmaker. International avant-garde art circles treat Mr Terayama like a god although, in the USA, his work remains largely unknown. Mr Shuji Terayama died from Nephrotic Syndrome, May 1983, at age 47. But his experimental, radical vision continues to live through motion pictures [BOXER, SCANDALOUS ADVENTURES OF BURAIKEN, FRUITS OF PASSION: STORY OF O, et al], through his plays [Hunchback of Aomori, Lemmings to the End of the World, etc], and through his collection of SHORT EXPERIMENTAL FILMS.
Lastly, there are two different versions of this film. An edited print, running a mere 28 minutes, and this one, uncut at 72 minutes. It is a black and white production that has been sepia-tinted. The image purposely looks washed-out and polarized [in places] to give the impression of being an 'underground' or 'smuggled' film.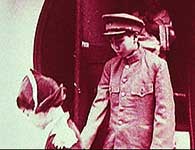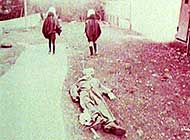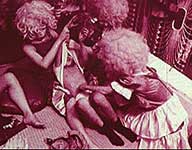 A Japanese film with English subtitles; uncut version (72 mins)
fullscreen format, DVDs encoded for ALL REGION NTSC,
playable on any American DVD machine.
Extras include Terayama trailers.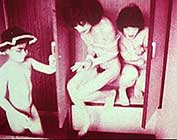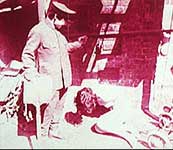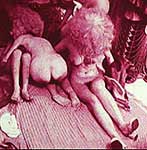 Violence/Coming of Age/Rape/Nudity
For Adult Audiences