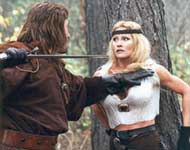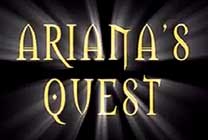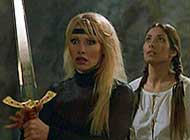 original International title: ADRIANA'S QUEST
also known as TREASURE KINGDOM

director: Lloyd A Simandl
starring: Rena Mero · Anthony DeLongis · Katerina Brozova · Daniela Krhut · Eva Aichmajer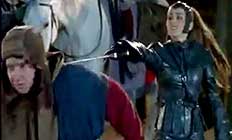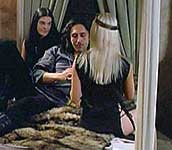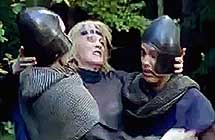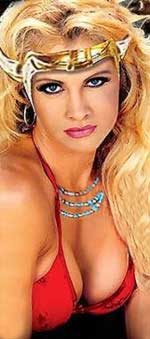 Princess Ariana fights for the dominion of her besieged Kingdom and the liberation of her people, now thrown into slavery by the conquering warlord Xanthos and his evil sister Zurii. With the help of her mentor, Taraka, she challenges the hordes of marauding mercenaries in her quest to find the Kingdom's mythical secrets hidden deep in the Caves of Fire.
  Originally planned as the pilot for a proposed International television series, this action-packed saga - featuring beautiful females wielding swords from galloping horses - is the brainchild of legendary Czech director Lloyd Simandl. The main star is Rena Mero in her film debut. She is a former WWE Women's Champion, known for her finishing kick-to-the-head wrestling blow called the Sable Bomb.
   Lloyd Simandl left Canada shortly after his first movie (AUTUMN BORN starring Dorothy Stratten) and moved to his native Prague, Czech Republic. Most of his 50+ films were shot there (the notable exception was the Italian-made horror film DEATH DOOR: PORTAL TO HELL in 2004) in English. His popular films include CHAINED RAGE: SLAVE TO LOVE, CALIGULA'S SPAWN, CHAINED ROSE [and the Chained Rose SEQUEL], WHITE SLAVE LOVERS, and a second film with Rena Mero called SLAVES OF THE REALM.
A Czech Republic film in English language; fullscreen format, (94 minutes),
DVD encoded for REGION 1 NTSC FORMAT; extras include theatrical trailer