Something is happening in Indonesia. As young directors have taken control of the cinema, the conservative 'old style' is evaporating. And despite being a predominately Muslim country with rules about displaying overt sexuality on the screen (even touching between genders is officially banned in entertainment), there's a new wave of cinema challenging the religious standards of the country. Some critics cite this as an example of a growing religious ambivalence among Indonesia's young people (the majority of moviegoers) and a reluctant acceptance from the financially-driven establishment. Whatever the reason, the result is a wave of new, fresh movies - like WATERFALL OF PENGANTIN (and the Waterfall of Pengantin SEQUEL) plus MIDNIGHT SHOW - that immediately have International appeal, suggesting an artistic revolution in the country.

And that brings us to Yoyok Subagyo, a former television director who uses different pseudonyms depending on the type of movie he's making. He signed this project as Yoyok Dumprink, so that means it's a horror film. To be more precise, it's a sexy horror film [perhaps, more accurately, a sex film with a ghost]. Without a doubt, it delivers in the babe department. One of the guys working in our warehouse [Jimmy Skringer] says that's plenty, calling it "the best movie he's seen this year." The story deals with Vicky, Mandy, and Massi who visit a place called Fabled Forest to bathe in a mythicall shower. According to legend, whoever washes in the water will quickly find an eternal mate. Mandy doesn't believe in such superstitions so she goes first; however, after the shower she meets Romy and falls in love. Unfortunately, she dies soon afterwards and returns as a ghost.
Interestingly, some of the characters are speaking English because they are Americans. Director Yoyok took his crew to Hot Springs, Arkansas where he would be free from Indonesian government censors. While there, he decided to extend his stay and shoot a few other movies.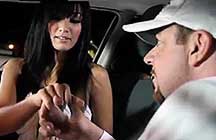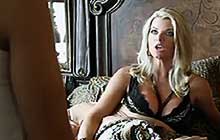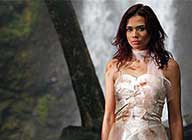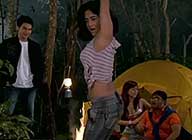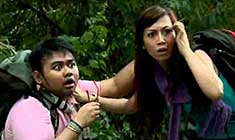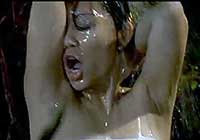 An Indonesian film with English subtitles and some English language; uncut (76 mins)
widescreen format, DVDs encoded for ALL REGION NTSC,
playable on any American DVD machine.
Extras include theatrical trailer.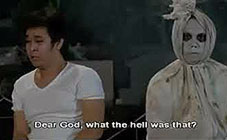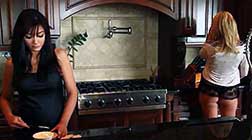 Violence/Drugs/Sexual Situations/SemiNudity
For Mature Audiences