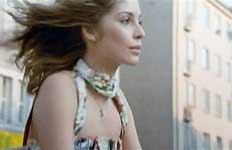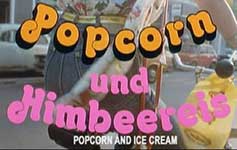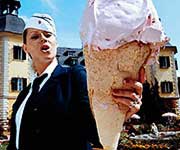 original German title: POPCORN UND HIMBEEREIS [Popcorn and Red Raspberry Ice Cream]

director: Franz Josef Gottlieb (as F J Gottlieb)
starring: Olivia Pascal ˇ Cesa Thoma ˇ Zachi Noy ˇ Ursula Buchfellner ˇ Benny Schnier ˇ Herbert Fux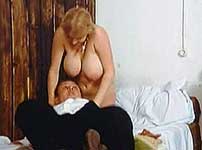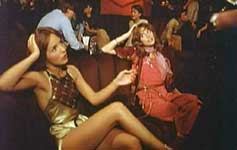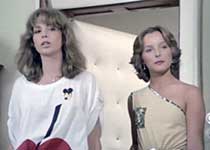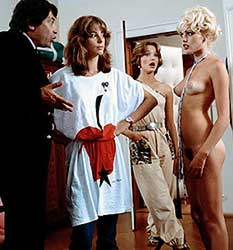 Vivi (Pascal) agrees to take a large cash deposit to the bank for her furniture store-owner boss. Through a series of miscalculations, the money is stuffed under a mattress at the store. When Vivi goes back to retrieve it, she discovers all the beds have been picked up for delivery to a resort hotel. She and best friend Bea (who was also responsible for the mistake) decide to go and check all the hotel suites until they find the money.

   This German sex comedy offers a brisk plot, lots of nudity and the exquisite girl-next-door beauty of Olivia Pascal. She made a name for herself with a decade of similar sex comedies (THE FRUIT IS RIPE, SUMMER NIGHT FEVER, et al) and erotic thrillers (i.e., Jess Franco's BLOODY MOON and BEHIND CONVENT WALLS) before moving to German TV with the hit sketch-comedy series BANANAS.

   Interestingly, one of her co-stars here - Zachi Noy - is a young rotund, Israeli actor who found instant International success with the American Graffiti-esque LEMON POPSICLE. That film made him so popular in Germany that the producers immediately signed him to this project and created a role for him.

    German director Franz Joseph Gottlieb is a movie studio veteran who helmed well over 80 films between 1956-2005. Initially, he was known for his black-n-white thrillers based on the stories of Edgar Wallace. Later he drifted to Lisa Studios where he befriended Sigi Rothemund (aka Siggi Götz, known for movies like BEAUTIFUL AND WILD OF IBIZA and COLA CANDY CHOCOLATE) and was strongly influenced by Siggi's style of filmmaking. Mr Gottlieb is probably best remembered for HANSEL AND GRETEL: LOST IN THE WOODS and LADY DRACULA. Franz Gottlieb died from a brain tumor at age 75 in July 2006.