Over the years - since 1950 - seven different actresses played Darna on the big screen (plus a few others brought the character to television). But Vilma Santos portrayed the Filipino superhero more than anybody else; she was Darna four times between 1970-1979. And this film is considered the best of the batch.
Narda is a pretty, humble girl who dreams of peace and brotherhood for all humanity. Her prayers are answered when receives (and swallows) a magic stone from the Heavens, allowing her to transform into a scantily-clad superhero named Darna, ready to challenge any evil in the world. Obviously, she can also take aim at any out-of-the-world threat as well. Enter the Planet Women. Arriving in a flying saucer, this clan of beauteous, multi-colored female aliens have come to Earth to literally suck the minds of brilliant scientists [odd that they've chosen a village in the Philippines as ground zero]. The ultimate goal of these women is to use the newly acquired knowledge in a plot to create a master race that will rule the universe. Of course, Darna cannot allow this to happen.
Despite Vilma's popularity as Darna, she was replaced by Anjanette Abayari for a superhero re-boot called DARNA RETURNS: DARNA VS SNAKE GIRL in 1994.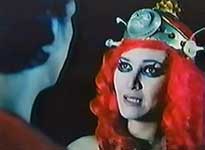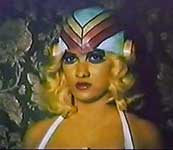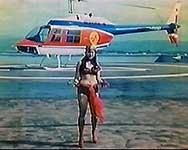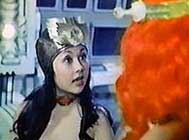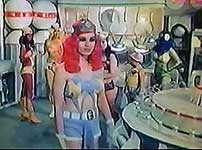 A Filipino film with optional ON/OFF English subtitles; uncut (102 min)
widescreen format, DVDs encoded for ALL REGION NTSC,
playable on any American DVD machine.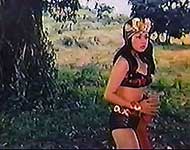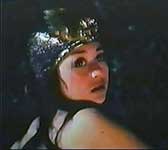 Violence/Sexual Situations
Mature Audiences