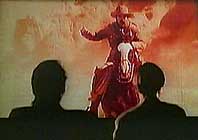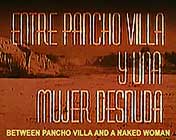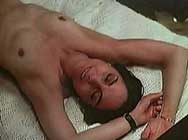 original Mexican/Spanish title: ENTRE PANCHO VILLA Y UNA MUJER DESNUDA
[Between Pancho Villa and a Naked Woman]

directors: Sabina Berman and Isabelle Tardan
starring: Diana Bracho · Arturo Rios · Jesus Ochoa · Delia Casanova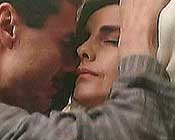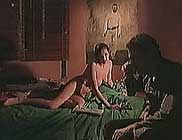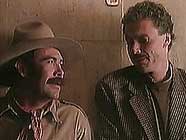 A classic battle between the sexes, revolutionarily portrayed in Mexican cinema. This controversial film - praised and condemned by the Mexican Media - details the story of the changing nature of today's gender roles. It follows Gina and Adrian, a couple with different ideas about a healthy, intimate relatonship. Gina is concerned that she is stuck, with years passing by. She is looking for commitment from her long-time boyfriend Adrian. But he refuses her overtures. Angered by his reluctance to marry, Gina is fed up with Adrian's sexist 'Pancho Villa' attitude. She decides to take a younger, more sensitive man as her lover. Ex-boyfriend Adrian reacts with unmitigated machismo as he tries to win back Gainer's attention.
Despite the poignant feminist theme, government censors had a very difficult time with the "adult visuals" of this film. Not only does it feature numerous scenes of female nudity [usually banned in Mexican cinema] but it also flaunts full-frontal male nudity [ALWAYS banned]. But when the censors attempted to stop the movie, there was such an outcry from critics, film directors and university intellectuals that the government was forced to allow it to play (albeit to adult 18+ audiences).
Part of the reason for this film's unprecedented clout (essentially, the reason it could challenge and win against the Mexican government) is found in the prestige of the writer/director Sabina Berman and her star Diana Bracho. Sabina Berman is Mexico's most commercially successful and critically acclaimed playwright, winning the Mexican National Theatre Prize an unprecedented four times. Her star here, Diana Bracho, is the daughter of Julio Bracho, considered the best director of Mexico's Golden Age of Cinema (1940-1950). She is also one of that country's top actresses - of stage, screen and theater - winner of 5 Best Actress awards, including one for the original stage version of this very film, which she also wrote.