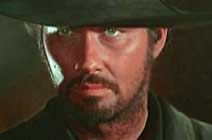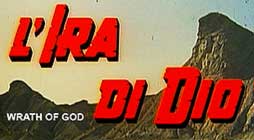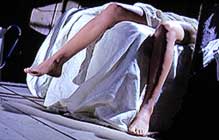 Original Italian title L'IRA DI DIO [Wrath of God]

director: Alberto Cardone (as Albert Cardiff)
starring: Brett Halsey (as Montgomery Ford) · Wayde Preston · Dana Ghia · Fernando Sancho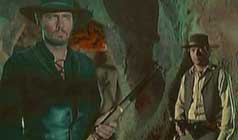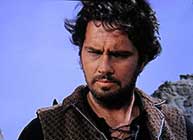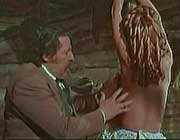 A familiar story, punctuated with ruthless machismo. After years of bounty hunting work, Mike has decided to hang-up his guns, get married and retire on his homestead. But Mike arrives at his ranch to find fiancee Jane has been viciously raped and murdered. All his money - except for seven silver dollars - also has been stolen. He vows vengeance, calling it "a personal kind of hatred," and embarks on a dark journey. Mike hunts down the killers, leaving a silver dollar on each dead body as a calling card.
Brett Halsey had been an American TV star who went to Italy for work after the cancellation of his television series Follow the Sun in 1962. He starred in everything from Peplums to Spaghetti Westerns, from Giallos to Romantic Comedies. Cult fans know him best for the psychedelic thriller HOT LOVE OF THE YOUTH, Mario Bava's FOUR TIMES THAT NIGHT and numerous Lucio Fulci films (DEVIL'S HONEY, DEMONIA and CAT IN THE BRAIN). This was Mr Halsey's second Spaghetti Western and - convinced the genre would not find International acceptance - he continued to hide behind the Montgomery Ford alias [from his previous TODAY WE KILL... TOMORROW WE DIE]. Some of you may remember Clint Eastwood's appearance on the Johnny Carson Tonight Show  in 1965 where he made fun of FISTFUL OF DOLLARS and FOR A FEW DOLLARS MORE, saying "neither were worth seeing" and "they'd never get released in the United States anyway." (He was almost correct. Neither found American distribution until after the underground success of THE GOOD THE BAD AND THE UGLY when they were released as a double feature to the Grindhouse circuit.)
This is one of director Cardone's better films, on par with his BLOOD AT SUNDOWN [$1000 On The Black]. He spent 25 years (from the mid 40s through early '60s) working as an assistant director and production designer for numerous high-profile shot-in-Europe 'Hollywood' blockbusters i.e., Ben-Hur [for which he won an Academy Award in 1960], Purple Noon, Blood and Roses, Barbarella, et al. Mr Alberto Cardone died from a heart attack at age 57, October 1977.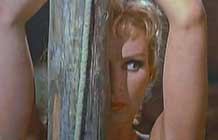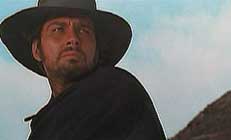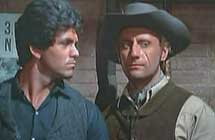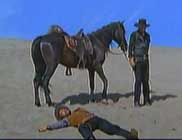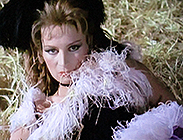 An Italian production with English subtitles; widescreen uncut (92 minutes)
NTSC DVD format, encoded for ALL REGION, playable on any American DVD machine.
Extras include selected Spaghetti Western trailers.

Graphic Violence/Rape/Sexual Brutality/SemiNudity
Suggested for Mature Audiences