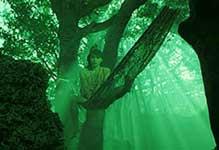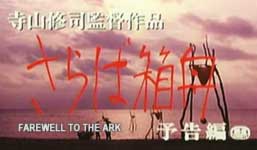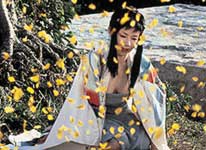 Original Japanese title SARABA HAKOBUNE (Farewell Ark)
also known as GOODBYE ARK

director: Shuji Terayama
starring: Tsutomu Yamazaki · Mayumi Ogawa · Yoshio Harada · Yoko Takahashi · Renji Ishibashi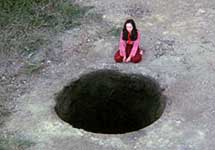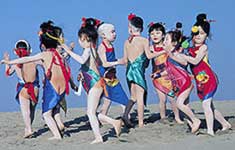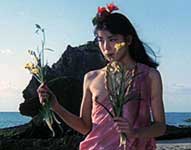 Loosely based on Gabriel Garcia Marquez's novel One Hundred Years of Solitude, this is the final film from legendary director Shuji Terayama. Set in a rustic Japanese village where "time doesn't flow" [it stays permanently daytime after all clocks are buried], here is the story of incestuous cousins Su-e and Sutekichi. She has been condemned to wearing an indestructible chastity belt and he - a 35-year-old virgin - is desperate to penetrate her. Sutekichi's sexual frustration finally erupts when he overhears villager Daisaki making fun of his predicament, causing Sutekichi to murder Daisaki. After that, he and Su-e flee the village and live as husband and wife in an idyllic forest.

Sutekichi begins to lose touch with the world around him and starts labeling everything "shoes," "my house" etc. He even hangs a sign on himself that says "Me." Many bizarre things happen in Terayama's masterpiece: a child falls into a pit and emerges moments later as an adult, two youths chase after a woodland nymph but if they see her naked [as they hope to do] they are doomed to a horrible death, and masked dancers perform a torchlit rite that must be seen to be appreciated. Despite the 127 minute running time, this movie is never dull.
Shuji Terayama was a poet, playwright, novelist, artist and filmmaker. International avant-garde art circles treat Mr Terayama like a god although, in the USA, his work remains largely unknown. Mr Shuji Terayama died from Nephrotic Syndrome, May 1983, at age 47. But his experimental, radical vision continues to live through motion pictures [BOXER, EMPEROR TOMATO KETCHUP, FRUITS OF PASSION: STORY OF O, et al], through his plays [Hunchback of Aomori, Lemmings to the End of the World, etc], and through his collection of SHORT EXPERIMENTAL FILMS.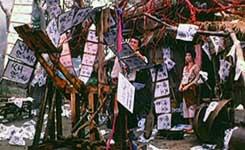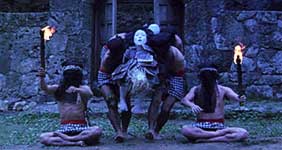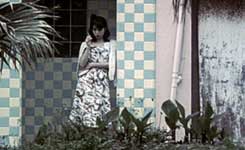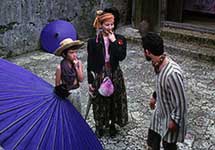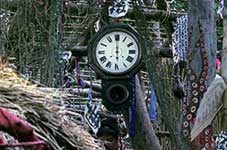 A Japanese film with optional ON/OFF English subtitles;
widescreen; uncut 127 minutes; NTSC DVD format, encoded for ALL REGION,
playable on any American DVD machine. Extras include theatrical trailer.



Violence/Nudity/Drugs/Incest/Adult Themes
recommended for Mature Audiences