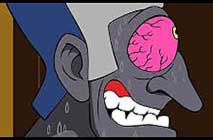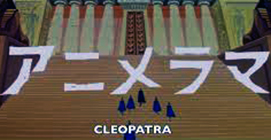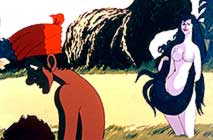 original Japanese title: KUREOPATORA
also known as OSAMU TEZUKA's CLEOPATRA and CLEOPATRA: QUEEN OF SEX

director: Osamu Tezuka and Eiichi Yamamoto
voices of Chinatsu Nakayama · Kotoe Hatsui · Tsubame Yanagiya · Nobuo Tsukamoto · Kazuko Imai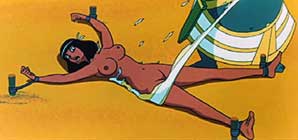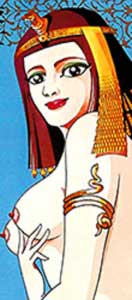 Don't expect a history lesson here. This is the story of time traveling space aliens who go back to an ancient era to investigate a rival planet's nefarious plans. Hoping to rewrite the past, these aliens transform young Cleopatra into a nymphomaniac in order to stop the randy dictator Caesar.

The movie deals with revolution and civil unrest while also poking fun at the recounting of truthfulness in History. It breaks many cultural taboos, with scenes depicting rape, zoophilia, incest, pedophilia and gay-bashing. There are also many unexpected moments, such as an Astro Boy appearance. This is one of the first X-Rated (Adult) feature films [3 years before Hollywood's Fritz the Cat]. Osamu Tezuka is considered the Godfather of Manga, responsible for much of Japan's iconic Pop Art, from Astro Boy to Kimba the White Lion. By the late '60s, Tezuka turned to an adult audience with this film, 1000 and One Nights and the classic BELLADONNA OF SADNESS. Mr Tezuka died from stomach cancer, February 1989 at age 60.
A Japanese film with optional ON/OFF English subtitles; uncut widescreen format, (112 minutes),
DVD encoded for ALL REGIONS NTSC FORMAT; extras include theatrical trailer.