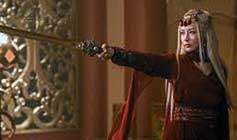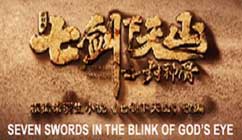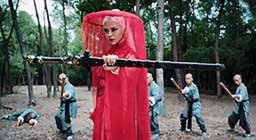 Original Chinese title ZHAYAN JIAN YOU QI GE JIAN [Seven Swords: In the Blink of God's Eye]
also known as QI JIAN XIASHANAND [Seven Swords Descending the Mountain]
director: Nam Chi Wai (as Francis Nam)
starring: Tian Chuan · An Ziyi · Li Xing-yun · Di Wang-yi · Cu Zhen-sheun · Yu Zie-hu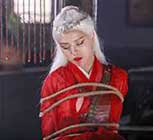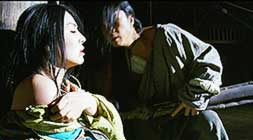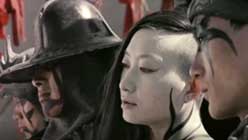 This film is based on the Seven Swords Descending the Mountain series of books by Liang Yusheng [also the source for Tsui Hark's 2005 actioner SEVEN SWORDS]. The story is set in the late Ming and Qing dynasties where Zhang Hua-hao meets a white-haired female warrior, Yi Lanzhu. He mistakes her for a white-haired witch named Fei Hong-jin, an evil princess of the Western Region wanted for the assassination of four tribal chiefs. Oblivious to his error of mistaken identity, Zhang immediately captures poor Yi to take her to justice. Although she attempts to explain herself, Zhang is determined in his mission. However, his trek is constantly interrupted by other vengeance seeking warriors, bounty hunters and the witch Fei. As their journey continues, the two join forces against the enemies and they eventually become lovers.
Here is a big-budget Beijing actioner that relies on many supernatural elements to tell its story. This is evidence of the Chinese government further relaxing such restrictions. Officially the Ministry of Civil Affairs says these types of stories are outlawed [citing the section of the censorship code known as FEUDALISTIC IDEOLOGY OR PSEUDOSCIENCE]. Recent exceptions have been made if the motion picture is based on Chinese folklore (NEW CHINESE GHOST STORY). This is still a delicate situation in China, often resulting in banning and condemnation of many films (e.g., HAUNTED CITY, MIDNIGHT HAIR, VIXEN AT THE END OF DEMON ROAD, et al).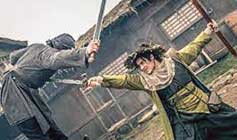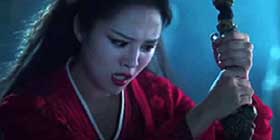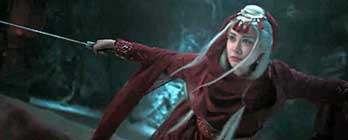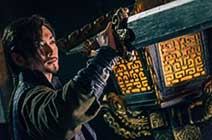 A Chinese film; widescreen, uncut version (91 min.), with English/Chinese subtitles,
DVD encoded for WORLD FORMAT NTSC, playable on any American machine.
Extras include selected theatrical trailers.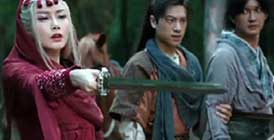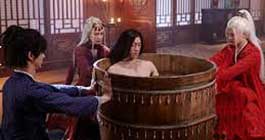 Violence/Sexual Brutality/Supernatural Elements
For Mature Audiences