A Collection of Nine German Short Films
featuring
RED RIDING HOOD:
A STORY OF BLOOD AND DEATH
[Rotkappchen: Eine Erzahlung Von Blut Und Tod]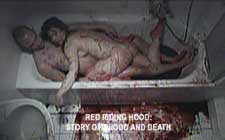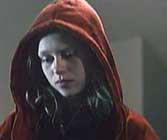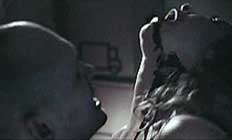 #1 RED RIDING HOOD: A STORY OF BLOOD AND DEATH (2013) [Above]
[Rotkappchen: Eine Erzahlung Von Blut Und Tod]
director: Martin Czaja and Florian von Bornstädt
starring: Vivien Ciskowski ˇ Alexx Grimm ˇ Cornelia Werner
When Markus arrives home late from work, he finds a mysterious young girl sitting on the sidewalk in front of his house. With the intent of contacting the police in the morning, he takes her inside. His wife Annika senses trouble and doesn't want the girl in the house overnight. She was right. The girl knows lurid details about the couple she could not (and should not) know which results in bloody sexual mayhem.
                                         __________________________________________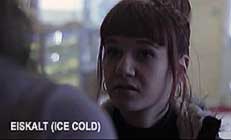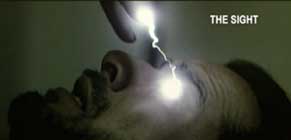 #2 EISKALT [Ice Cold] (2015) [Above Left]
director: Luis Seemann
starring: Tatjana Kranz ˇ Miriam Cilingir ˇ Moana Doll
A teen girl ignores her friend after getting wrapped up in an Internet suicide drama.
#3 THE SIGHT (2016) [Above Right]
director: Frank Fonz
starring: Thomas Binder ˇ Gamze Hande Kiriscioglu ˇ Manoush
When a young woman visits her cousin, she inadvertently discovers he is a witch hunter.
___________________________________________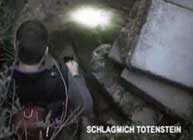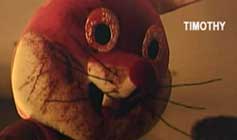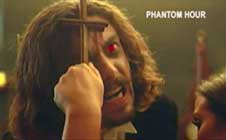 #4 SCHLAGMICH TOTENSTEIN [Beat Me Stone Dead] (2016) [Above Left]
director: Aleney Marc
starring: Aleney ˇ Anita ˇ Padmachymar ˇ Sasha
After visiting a secret chamber in an old castle, a young filmmaker brings home a deadly ghost.
#5 TIMOTHY [The Timothy Show] (2013) [Above Center]
director: Marc Martínez Jordán
starring: Roger Moreno ˇ Ann Perelló ˇ Hodei Del Barrio
Young Simon watches in horror as a giant rabbit butchers the babysitter.
(Spanish/German production)
#6 PHANTOM HOUR (2015) [Above Right]
director: Brian Patrick Butler
starring: Luke Anthony Pensabene ˇ Raye Richards ˇ Connor Sullivan
A group of marijuana-seeking young people are captured by a vampire.
(American/German production)
__________________________________________________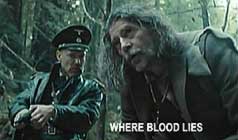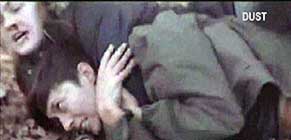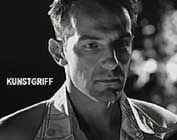 #7 WHERE BLOOD LIES (2019) [Above Left]
director: Brian Q
starring: Clayton Aggeles ˇ Jay Brown ˇ David Castro
A Nazi SS Unit searches for a nest of vampires in WW2-era Romania.
#8 DUST (2014) [Above Center]
director: Kurt Gauthier
starring: Lilian Horst ˇ Ingrid Strom
Two girls discover a man after a virus has eliminated all males from Earth.
#9 KUNSTGRIFF [Tricky fingers] (2002) [Above Right]
director: André F. Nebe
starring: Ursula Buschhorn ˇ Werner Cartano ˇ Sabine Fecher
Two pick-pocket thieves are working the same party.

A collection of nine short films with English subtitles; widescreen,
DVD encoded for WORLD FORMAT NTSC, playable on any American machine.

Nudity/Graphic Violence/Drugs/Sexual Brutality
for Adult Audiences