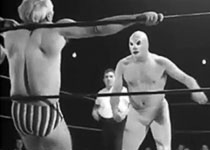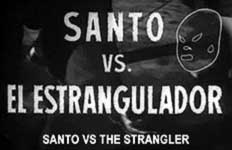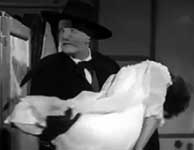 original Mexican/Spanish title: SANTO VS. EL ESTRANGULADOR [Santo versus the Strangler]

director: Rene Cardona
starring: Santo · Maria Duval · Alberto Vazquez · Begona Palacios · Carlos Moctezuma · Ofella Montesco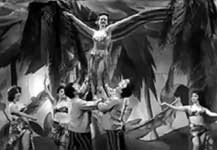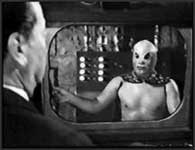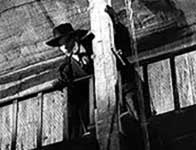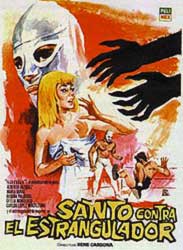 It has been sarcastically suggested that there's a good reason this motion picture slipped into obscurity. Some people call it one of the very worst Santo films while others insist it is brilliant, just woefully misunderstood by the fans.

 Not only is Rene Cardona's movie conceptually different from a traditional Santo film [the masked superhero usually fights groups of villains (i.e. zombies, vampires, aliens, witches, gangsters, monsters, etc.) rather than concentrating on one bad guy] but the production is structurally different as well. It features an astonishing 9 music numbers, and 3 wrestling matches, plus a conclusion where - even though Santo unmasks the killer - he's not the one who actually catches him.

The movie is closer to a Giallo, heavily influenced by Phantom of the Opera. A vicious, masked predator is killing the female starlets at the Variety Theater. The police are helpless in their investigation so they turn to Santo for assistance.
A Mexican film with optional ON/OFF English subtitles; fullscreen format, (80 minutes),
DVD encoded for ALL REGIONS NTSC FORMAT; extras include Santo theatrical trailers.