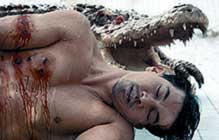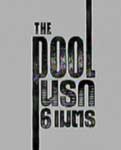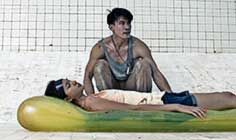 original Thai title USN 6 IUNS [The Six Meter (20 Foot) Deep Pool]

director: Ping Lumpraploeng
starring: Theeradej Wongpuapan · Ratnamon Ratchiratham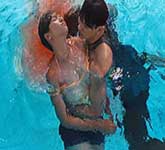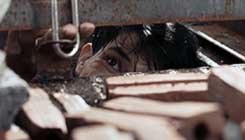 A series of misfortunes and unlucky coincidences trap the lead character Day and his girlfriend Koi inside a draining 6 meter (20 foot) swimming pool. There is no ladder. Nor is there a "shallow end." The pool is used as a movie prop, so essentially it's just a very deep hole. Day works as a stuntman and the final shoot has just wrapped. He knows that he must soon start tearing down the set, but decides to lounge a bit on a rubber raft in the pool. The boy ends up falling asleep while the water starts to drain. Day wakes when his girlfriend dives in (she doesn't realize that she's jumping into a dire situation until it's too late, managing to crack her head on the diving board on the way down). The two are now completely trapped in the soon-empty pool. There's no way out. But their trouble is further complicated when an alligator from the neighboring animal-farm escapes and decides to join them.
In retrospect, the story seems very far-fetched. But while the movie is unspooling, it's quite realistic, exciting and suspenseful. Reminiscent of OPEN WATER 2, this is a perfect popcorn movie. And - while unexpectedly meanspirited in places (pet lovers will be quite upset) - it's a recommended, menacing adventure.