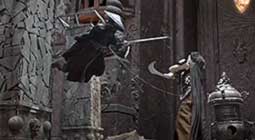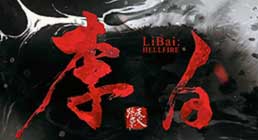 original Chinese title LI BAI ZHI TIAN HUO LIAO YUAN [Sky Fire of Li Bai-zhi]
also known as BLADE MASTER LI-BAI

director: Li Bo-xun
starring: Stephen Zhang · Ma Mu-xuan · Li Dong-guo · Steve Yu · Cherry Cao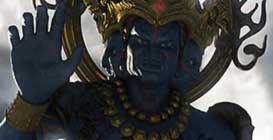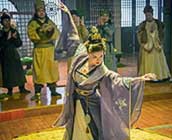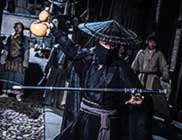 A mysterious stranger with a deadly slashing sword, hiding behind a black mask, rescues innocent people in Chang'an from a band of cutthroat robbers. He also protects the village from a ferocious giant who seems to be born from a thunderous lightning storm [see pic below left]. Li Bai-zhi had learned martial arts from his teacher Pei Min, and is dedicated to clandestinely following the path of justice as a night ranger. But Li Bai he managed to become well known in the empire as a poet, with stories of heroism and adventure. When the emperor invites the best poets to the court, Li Bai is among them. However, he's on a secret mission to secure a sacred stone but an evil wizard is determined to stop him.
This is the debut project for special effects maestro Li Bo-xun. He successfully mixes a heady brew of fantasy and sword action reminiscent to the classic Hong Kong films like SWORDSMAN and CHINESE GHOST STORY.
A Chinese film with English and Chinese subtitles; widescreen, 97 minutes;
DVD encoded for WORLD FORMAT NTSC, playable on any American machine.
Extras include original theatrical trailer.