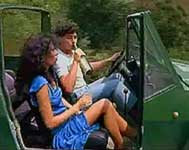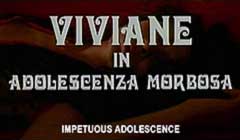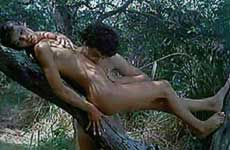 original Italian title VIVIANE IN ADOLESCENZA MORBOSA [Viviane in Impetuous Adolences]
also known as MORBIDLY ADOLESCENT

director: Erwin C Dietrich (as Michael Thomas)
starring: Evelyne Traeger · Ingrid Steeger · Ajita Wilson · Jacqueline Marcant · Roy Lovesong · Herbie Flynn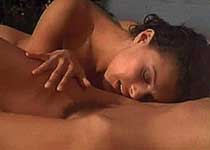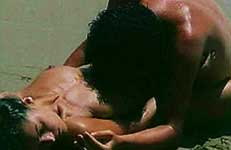 Lots of Internet misinformation surrounds this rare film from Erwin Dietrich. The Internet Movie Data Base insultingly describes it only as "Sexual encounters accompanied by music playing on the radio." This is very far from the truth. In reality, here is a cautionary story of three young people whose carefree (dangerous) lives clash as they struggle with romance and sex on an island off the coast of Greece. First, there's Viviane who sexually toys with naive Steven as she plans to seduce the village lawyer and destroy his marriage. Her mixed messages to Steven cause him to react violently towards her, resulting in tragedy. Meanwhile his brother Robert has begun a hopeless relationship with an older TV journalist (played by Ajita Wilson).
Erwin C. Dietrich is best known as Jess Franco's producer but he also helmed a number of his own films, usually for Eurocine Studios. His movies tend to be short-on-plot and heavy on nudity (GIRLS WITHOUT MEN and GROUPIE), while many (DANCING GIRLS FOR TANGIER and WHITE SLAVERS) also rely on sadism and sexual brutality. He is probably best known for the Lina Romay film ROLLS ROYCE BABY [as a director] and MAD FOXES [as a producer]. Mr Dietrich died from a stroke in March 2018 at age 87.
An Italian film with optional ON/OFF English subtitles; fullscreen, 80 minutes;
DVD encoded for WORLD FORMAT NTSC, playable on any American machine.
Notice: a very small EURO EROS logo in upper right corner of screen.
Extras include selected adult trailers.