Please Note: This is a XXX Hardcore Production
The film, including images and description on this page...
for ADULTS ONLY (18+)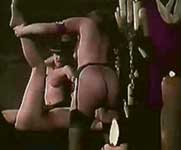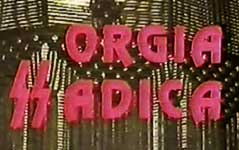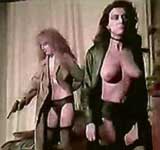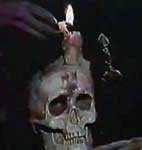 original Spanish title ORGIA SSADICA [Sadistic Orgy]

director: J. White
starring: Jordi Batalla (as Alan Black) · Patricia Perrier · Elisabet Magret · Sylvie Carles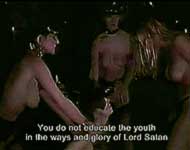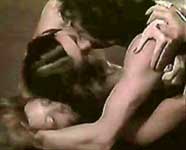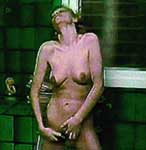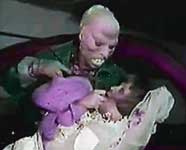 A writer's life is impacted by a violent sex cult when he begins writing S&M novels. Mr Alan Rodas has been writing for a paperback publishing house. He and his girlfriend Jayne live comfortably but modest. When a tough new editor named Samantha takes over the company, she makes a surprising offer to Alan... a year contract with a big advance, but he must immediately leave Barcelona, go to her secluded resort house in the mountains and concentrate on writing. Plus she demands that Alan changes to writing rougher stories with S&M themes. He accepts Samantha's offer, informs his girlfriend that he must leave her alone for a while, and he and his editor take off for the wilderness (after enjoying some sado sex in Samantha's condo). But before long, Alan finds himself in a real-life S&M adventure with his neighbors, a strange Nazi devil-worshipping sex cult.
This ugly film has garnered quite a reputation among genre fans, even though few have actually seen it. The director is listed as "J. White" and there's much speculation over who is hiding behind that obvious pseudonym. Some reputable sources insist it's the work of maverick director Manuel Esteba, a filmmaker who pushed the envelope in the aftermath of Spain's restrictive '70s with movies like SEXO SANGRIENTO and VICIOUS AND NUDE. But other film historians claim it's the work of actor Joaquín Blanco, who had worked with Mr Esteba but is better known for starring in Bruno Mattae's HELL OF THE LIVING DEAD as Professor Barrett.
Incidentally, the music is done by a relatively popular Beatle-ish pysche band called Aphrodite's Child.
A Spanish film with optional ON/OFF English subtitles; fullscreen, uncut 93 minutes;
DVD encoded for WORLD FORMAT NTSC, playable on any American machine.
Extras include selected theatrical adult trailers