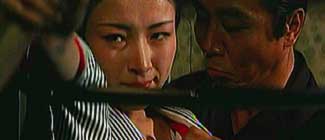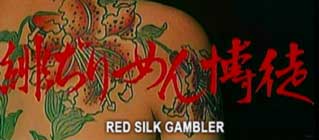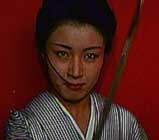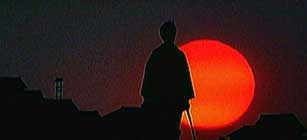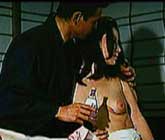 original Japanese title HIJIRIMEN BAKUTO [Scarlet Gambler]
also known as TIGER LILY

director: Teruo Ishii       scripter: Oniroku Dan
starring: Eiko Nakamura · Reiko Ike · Bunta Sugawara · Sanae Tsuchida · Midori Hoshino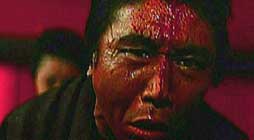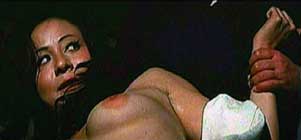 Female assassin-for-hire Okatsu the Tiger-Lily takes 'hit contracts' [many distasteful even to her] and uses her skills to extract a twisted brand of justice, leaving a trail of blood as she travels from one gambling site to the next. Of course, she needs to be cautious while performing her executions, but Okatsu must also be continuously aware of her surroundings as many people are seeking revenge for her past hits.
Eiko Nakamura (playing Okatsu here) made few movies. Some critics think Eiko's career was hindered by Reiko Ike's overshadowing performance in this film. Ms Nakamura would headline in one more feature the following year [BATTLES WITHOUT LOVE AND HUMANITY for Kinji Fukasaku] before turning to television work where she is still active today.
Co-star Reiko Ike was already one of Toei's top sex starlets (due to Japan's Pinky Violence or female girl boss phenomenon) when she made this movie. She starred in numerous films for director Teruo Ishii (also see FEMALE YAKUZA and SEX AND FURY) before branching away from Pink into mainstream crime movies. In 1980, Ms Ike starred in an episode of the television series Detective Story  before totally disappearing at age 27. Nothing has been reported on Reiko Ike since that date.
Also significant is the kismet union between director Teruo Ishii and novelist Oniroku Dan. This was Dan's first project with a major Japanese movie company. He would then move to Nikkatsu where he penned many of that studio's major pink films from FLOWER AND SNAKE to WIFE TO BE SACRIFICED. The S&M influence here was a natural foundation as Ishii had already cemented his reputation with his JOYS OF TORTURE movies.
A Japanese film with optional ON/OFF subtitles; widescreen, uncut 90 minutes;
DVD encoded for WORLD FORMAT NTSC, playable on any American machine.
Extras include selected theatrical trailers.