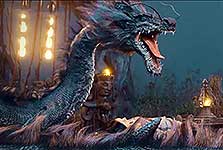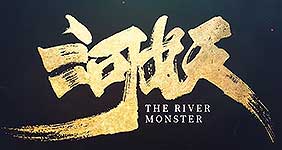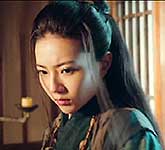 original Chinese title HE SHEN [River Monster]
also known as BLACK DRAGON

director: Jin Li and Zhang Yu-Fan
starring: Lam Tze-Chung · Raquel Xu-Dong · Chen Li-Ling · Hu Yue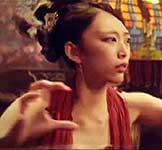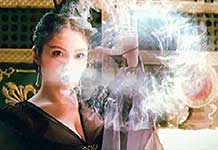 This impressive Chinese martial arts "Legend" film treads a thin line between realty and fantasy, often starting in one dimension and then slipping into another, usually through magic or shift-changing. Liu Yi-dao is a master fighter known as the Monster Killer, but he relinquishes his fame when younger sister Xiao becomes ill. He retires to begin a quest for a doctor who can cure her. Meanwhile, with Liu Yi-dao out of the picture, the demon clan - led by Toad Demon and Serpent Spirit - try to revive the fearsome River Monster in their mania to rule the world. Then Liu Yi-dao learns that his sister's sickness is caused by a deadly bind with the River Monster and he attempts to exorcise the creature. But the two demons also learn her secret and decide to use the girl in their world domination plan. The entire story becomes even more complicated when Liu Yi-dao and his sister fall in love with each other.
A Chinese film with English and Chinese subtitles; fullscreen, uncut 85 minutes;
DVD encoded for WORLD FORMAT NTSC, playable on any American machine.
Extras include original theatrical trailer.