An Early Blue Demon Rarity!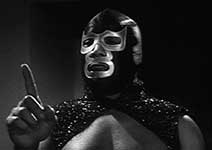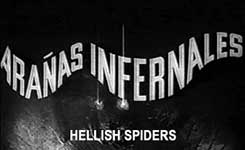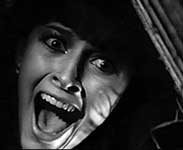 original Mexican/Spanish title DEMONIO AZUL EN ARANAS INFERNALES
[Blue Demon in Infernal Spiders]

director: Federico Curiel
starring: Blue Demon · Blanca Sanchez · Martha Elena Cervantes · Frankenstein · Ramon Bugarini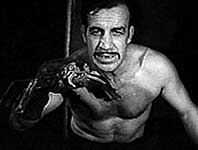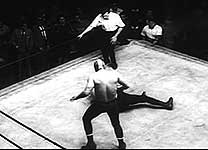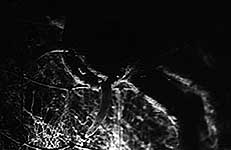 Space aliens from planet Aracnea invade the Earth in a search for fresh brains, desperately needed for their dying queen. Of course, the superhero most qualified to stop them from conquering the world is Blue Demon! Seemingly, the aliens also know this. So they create their own 'invincible' wrestler [with a spider claw] to go against the champ in the ring.
Director Federico Curiel was a studio workhorse, making almost a hundred movies between his first NEUTRON in 1960 and his last, Bohemios De Aficion [Bohemian Hobby] in 1984. He is best known for LAS VAMPIRAS and SANTO IN THE VENGEANCE OF THE FEMALE VAMPIRES. Interestingly, he would often 'borrow' footage from other films to save money on the production budget. This film is a perfect example. Federico stole the UFO footage from Ed Wood's PLAN 9 FROM OUTER SPACE [perhaps an odd snatch because one wouldn't expect him to pilfer 'the worst movie ever made' when there are so many other choices available]. He also used the dog-to-skeleton sequence from the clunker Teenagers from Outer Space. Plus, the keen viewer will notice music lifted from CREATURE FROM THE BLACK LAGOON and This Island Earth. The versatile Mr Curiel would die from a stroke in June 1985. He was 68.
Blue Demon was born Alejandro Muñoz Moreno in April 1922, Nuevo León, Mexico. He began professional wrestling in the late '50s, making his first movie in 1962. [This was his third feature film, produced in 1968]. Outside the ring, Blue Demon was good friends with fellow Luchador, Santo. The two of them often appeared together in movies (e.g., SANTO AND BLUE DEMON AGAINST THE MONSTERS [their first project together, in 1970], SANTO AND BLUE DEMON VS DRACULA AND THE WOLFMAN, SANTO AND BLUE DEMON VS THE BEAST OF TERROR, et al). Blue Demon died from a heart attack at age 78, December 2000.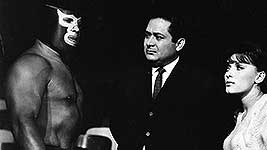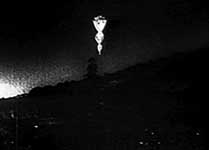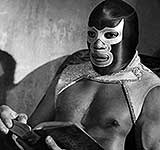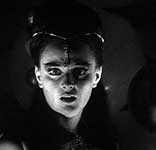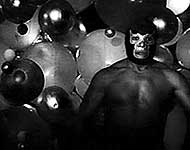 A Mexican/Spanish film with optional ON/OFF English subtitles; fullscreen, 84 minutes;
DVD encoded for WORLD FORMAT NTSC, playable on any American machine.
Extras include selected Blue Demon trailers