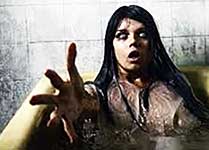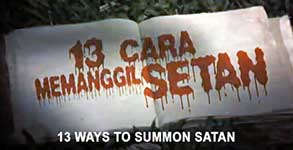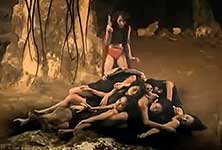 original Indonesia title 13 CARA MEMANGGIL SETAN [13 Ways To Summon Satan]

director: A. Lung Wong
starring: Debby Ayu · Five Vi · Febriyane · Ki Kusumo · Him Damsyik · Roy Saputra · Fairy Wattimena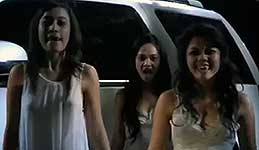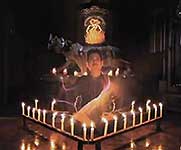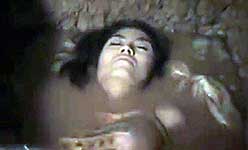 After a disturbance in a bookstore, Fred steals an old, discarded book. It turns out to be an ancient cursed manual on how to communicate with Satan. Fred and his friends, Vinis and Dilo, suddenly find themselves captured by the book and evil witch Jingga who wrote it. To free themselves from the demon-infested world around them, they enlist the help of a monk. But the boys soon learn that the only path back to sanity is the completion of the 13 commandments dictated by the book. They recruit three female friends for a seance to complete the rituals. But each commandment brings them closer to destruction. The rituals, as demanded by the book, range from moderate [the girls taking off their panties and wearing them on their head, see pic below right] to cruel [cutting off the head of a black cat] to the extreme [rape the person to your left who, in Dilo's case, is his male friend Fred!]. The whole thing reaches an unexpected conclusion.
Director A. Lung Wong is actually Hong Kong actor/director/choreographer Jimmy Lung Fong (best known for his work in LEOPARD HUNTING and KICK BOXER'S TEARS). He also had a brief HK singing career under the alias Jimmy Lee. Mr Wong died from lung cancer in November 2008 at age 56.
The lead actress is Debby Ayu, playing Tera here. She is a popular Indonesian starlet who also headlined in VIOLATED BRIDE OF BLUE BEACH and VIRGIN BEACH CREATURE. Co-star Febriyane (playing the beautifully evil witch Putri Jingga) was also in the aforementioned VIRGIN BEACH CREATURE and the shocker CRAWLING FROM THE MUD. Five Vi receives a strong credit position even though she's only in the opening segment. After making this movie, she found fame with TRAGIC SECRET OF CLOVER BRIDGE which resulted in the more impressive billing sequence here.
Incidentally, the producer Ki Kusumo (also playing the role of the monk here) claims this movie is based on a true story. And, while promoting the film, he warned people against attempting any of the rituals. "So don't even try to summon the devil at home," he said at the premiere in Jakarta.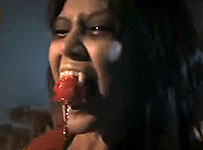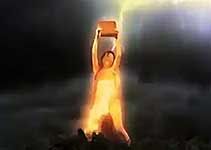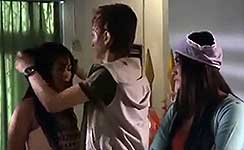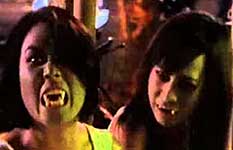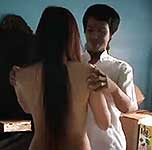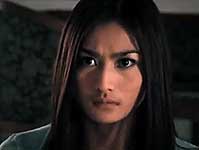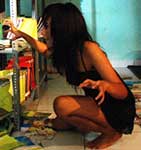 An Indonesian film with optional ON/OFF English subtitles; widescreen, 80 minutes;
DVD encoded for WORLD FORMAT NTSC, playable on any American machine.
Extras include original theatrical Indonesian trailer.