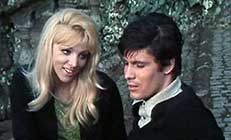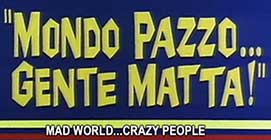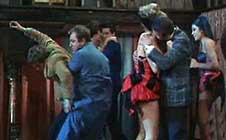 Original Italian title MONDO PAZZO...GENTE MATTA! [Mad World...Crazy People!]

director: Renato Polselli
starring: Silvana Pampanini · Alberto Bonucci · Franca Polesello · Franco Lantini · Thea Fleming · Rita Klein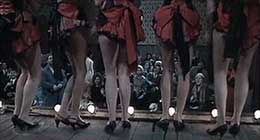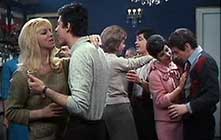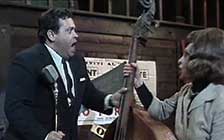 The Rome Music Academy is traditional. Conservative. And square. The professors demand complete devotion to Classical Music [one teacher even forbids student Alberto from loving girlfriend Ruth more than Bach!]. However, five musicians have formed a rock band and begin secretly playing venues outside the college campus. Everyone seems infected by the new rhythm and the band's underground popularity grows. Despite the success, record companies seem uninterested and eventually the University administration decides they must do something about the 'wave of lust' infecting the students.
Cult filmmaker Renato Polselli [perhaps, better known as Ralph Brown] directs a silly, madcap [even stupid] film movie here. But it is undyingly endearing, especially for viewers who love the pop-culture, its music and the various attempts to contain it. Mr Polselli made this film just after his Spaghetti Western THE SHERIFF WON'T SHOOT and before his quirky horror movies TRUTH ACCORDING TO SATAN and DELIRIUM. As his career continued, Renato's productions became more excessive; some critics wrote that he had gone insane. Two films, REVELATIONS OF A PSYCHIATRIST ON THE PERVERSE WORLD OF SEX and OSCENITA marked the start of his 'extravagant period,' both contained hardcore (XXX) segments and cultural taboos. In the early '80s, after a brief retirement, he returned with a series of highly unusual hardcore movies (including WHITE MOUTH BLACK MOUTH and WOMAN AND HER HOT BEAST. Renato Polselli died of natural causes at age 84 in October of 2006.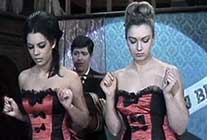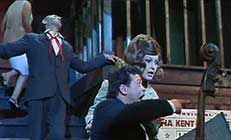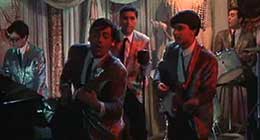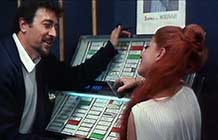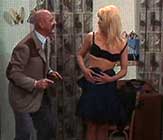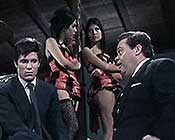 An Italian film with optional ON/OFF English subtitles;
widescreen; uncut 79 minutes; NTSC DVD format, encoded for ALL REGION,
playable on any American DVD machine. Extras include selected Renato Polselli trailers.